ArtsGoggle
Fort Worth's Premier Festival of Local Artists
Magnolia Village
South Main Village
Fairmount
EVENT DATE Saturday, October 19, 2019
EVENT HOURS Noon to 10pm
ONLINE GUIDE COMING SOON!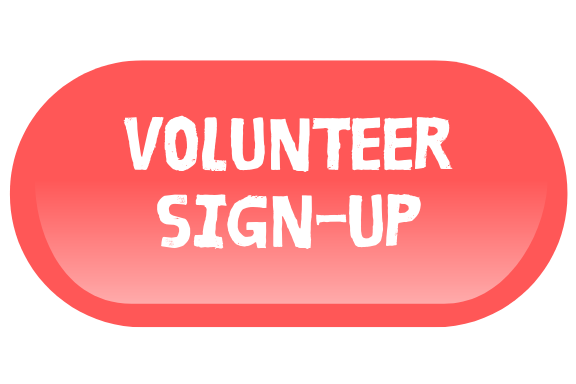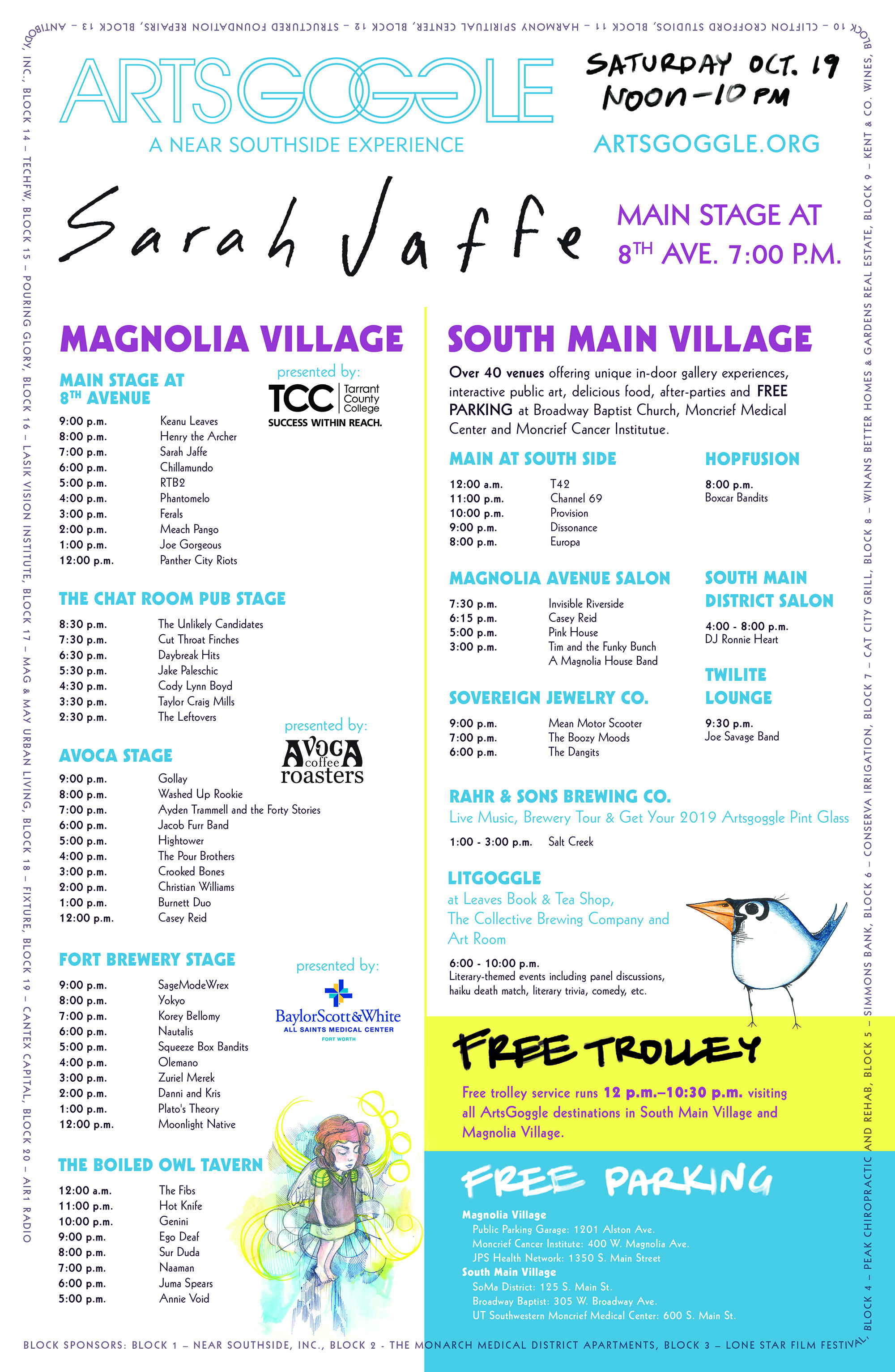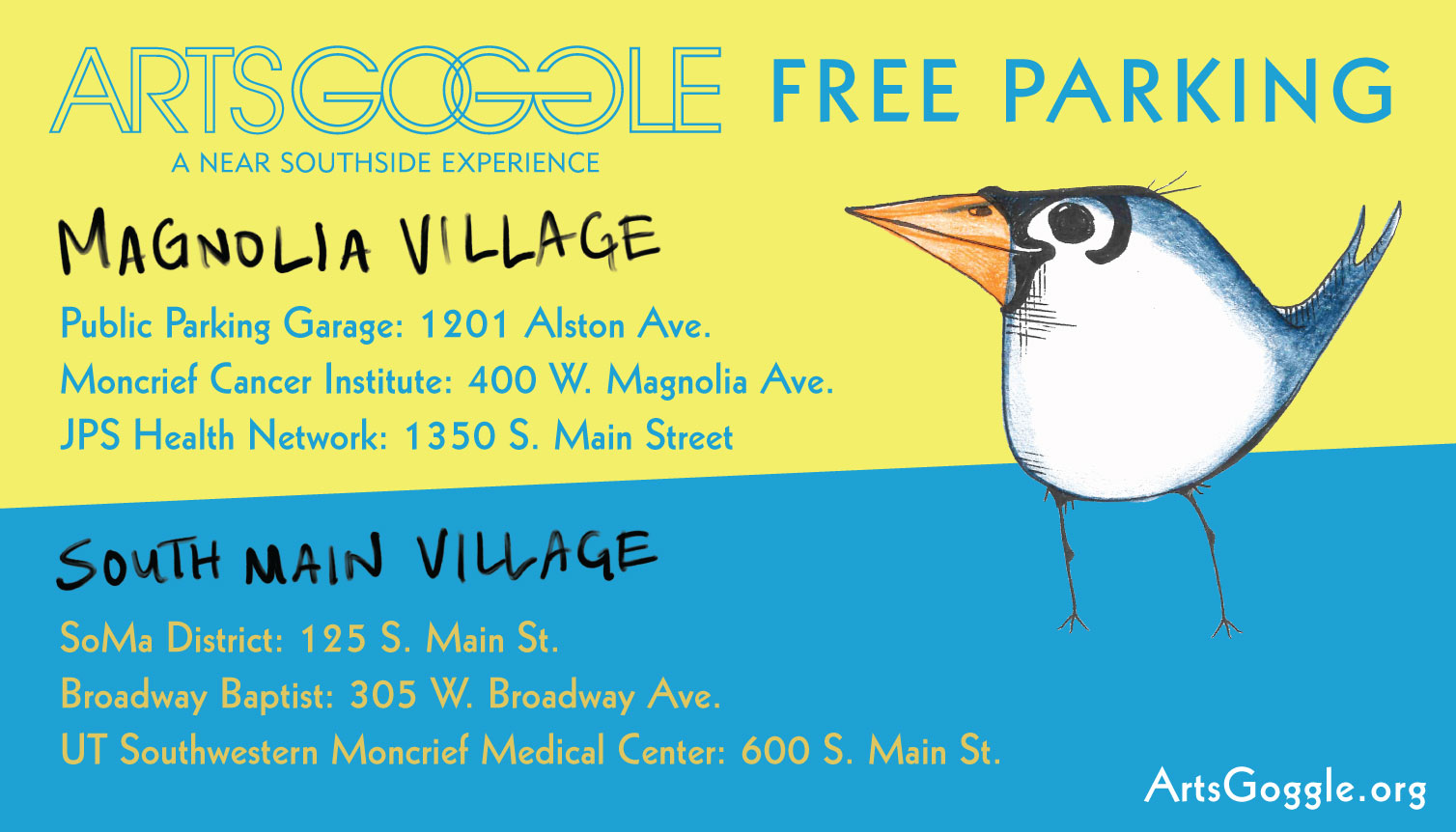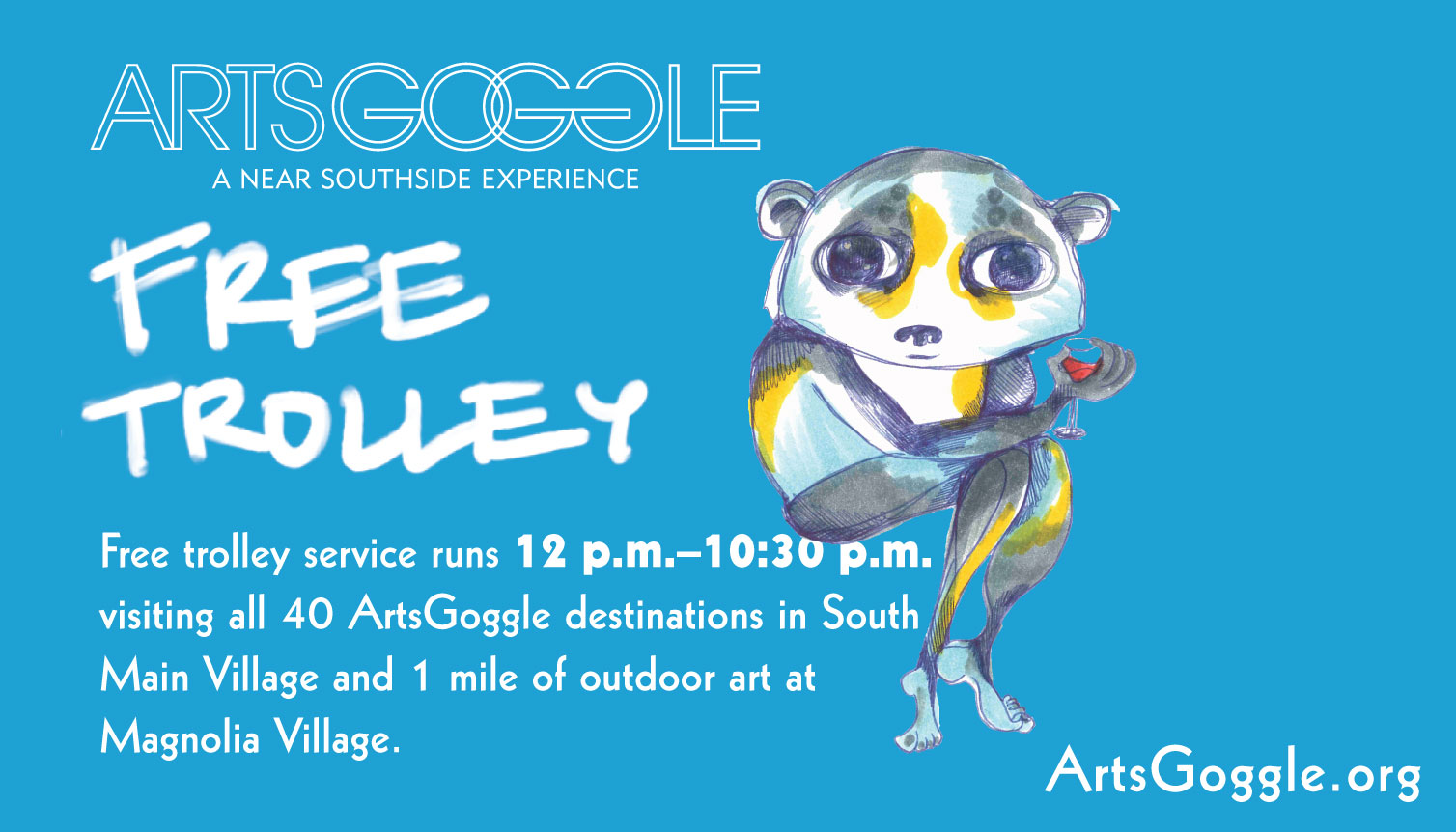 ArtsGoggle, presented by the Near Southside's Mag & May, is Fort Worth's premier festival of local arts. This free to the public, family-friendly event annually hosts more than 1,000 visual artists, 50 musical performances, artistic displays of every kind, food, drink, and fun for everyone. Unlike any event in Fort Worth, it exclusively focuses on highlighting the work of local artists, musicians, and performers of all mediums and experience levels. ArtsGoggle attracts a crowd of 60,000+ patrons that are as diverse as the Near Southside neighborhood where the event is hosted. Visitors are invited to park their cars and rediscover this revitalized urban neighborhood by foot or by bicycle, including Fort Worth Bike Sharing bikes.
ArtsGoggle started 17 years ago as the Near Southside's own indoor gallery night designed to showcase the district's revitalization efforts underway via newly-established business hosting one-day open houses in partnership with local artists. The event remained almost exclusively indoors for the first decade before spilling out onto the street. Today, visitors are invited to stroll artist's booths on Magnolia Avenue that stretch more than a mile in length and adjacent businesses, new and old, tout ArtsGoggle as their best day of sales each year.
ArtsGoggle prides itself in providing a casual, approachable and vibrant environment to appreciate art and learn about the talents within our own community. For almost two decades, this non-juried art festival has been the launch pad for many artists showing their work for the first time. ArtsGoggle provides a supportive setting for both aspiring and professional artists with new collections to display, sell and seek comment on their artwork.
Accompanying the visual artists, the entertainment at ArtsGoggle heavily features local musiciansand offers performances from a variety of cultures and styles. In addition, the event partners with arts organizations across Fort Worth to draw attention to their programs. In years past, ArtsGoggle has hosted the Fort Worth Opera for pop-up concerts; showcased Ballet Folklorico de Azteca for a colorful dance performance; and presented raucous concerts from the Flying Balalaika Brothers, a Russian Romani rock trio that utilizes classical instruments with a modern sound.
In 2018, in tribute to ArtsGoggle's unique indoor start, the event expanded to South Main Village where businesses opened their doors in an all-day open house to show off the work of a wide array of local artists. With the event footprint now stretch more than two miles, a trolley was available to take visitors between Magnolia Avenue and South Main Village, stopping along the way at designated parking areas and indoor art experiences.
Gallery at Goggle will return in 2019 to include more showcases of fine art, music, experiential art, and unique programming inside each of the South Main Village participating businesses ranging from breweries, bars and bakeries to creative firms, historic preservation projects and theaters.
AFFORDABLE FOR ARTISTS
The event is committed to keeping artist's fees affordable by requiring a registration fee of only $90, with no others fees to participate. Each year as ArtsGoggle grows, so do the operating costs of the event. In order to produce an even higher quality event with the same great neighborhood experience, the money collected provides vital funding to support improved infrastructure, communications, pre-event promotions, programs, signage, and more.
FREE TO THE PUBLIC
ArtsGoggle is free to the public, with no wristbands, tickets, or admission costs. Unlike many popular for-profit events in Fort Worth, ArtsGoggle is produced by a not-for-profit community organization and thus has no need to produce revenue. Instead, the event is exclusively focused on creating an environment to appreciate and celebrate the arts. All funds raised for the event will be dedicated to producing a memorable and successful experience for artists, venues, and patrons of all ages.
__________________________________________________
VOLUNTEER FOR ARTSGOGGLE!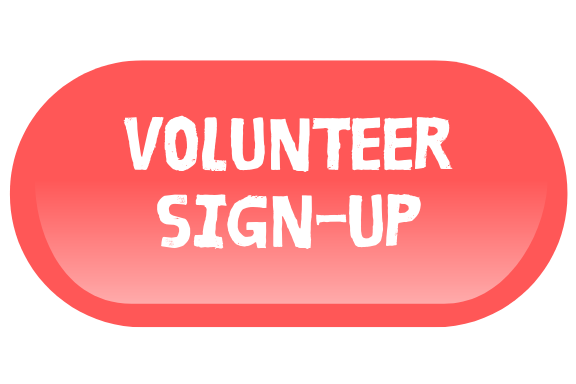 __________________________________________________
SPONSORSHIP OPPORTUNITIES – Starting at $1,500
These opportunities are for all other companies/brands/organizations to promote or sell their products at ArtsGoggle. Their contributions help to support the event financially and gives them maximum exposure for their brand via hosting a booth on site. ArtsGoggle is seeking a title sponsor, four stage sponsors, a trolley sponsor, programming sponsors and 20 block sponsors for the 2019 ArtsGoggle event. Click here to view terms and benefits of sponsorship. Sponsorship contributions made to Historic Southside, Inc. are deductible as charitable donations.
Trolley Sponsor $7,000
Stage Sponsorship $5,000
"Show Stopper" Programming Sponsor $4,000
Artist Lounge Sponsor $3,000
Block Sponsors $1,500
__________________________________________________
For visual artists showcasing their artwork at the festival, either indoors (very limited availabability) our outddoors.
This is the only fee for an artist's participation. Each year as ArtsGoggle grows, so do the operating costs of the event. The money collected from artist fees provides vital funding to support infrastructure, communications, pre-event promotions, programs, security, signage, and more. The 2018 ArtsGoggle attracted more than 60,000 patrons and we anticipate an equally large crowd this year. Your $90 helps us make this possible. Help us, help you have a great show.
STUDENT DISCOUNTS AVAILABLE - Art students and children may request a discounted participation rate of $45. To qualify for this discounted rate, please email megan@nearsouthsidefw.org with details about the age, schooling and experience of the artist. If we are able to verify that the artist is a student or child, a promo code will be offered via email to discount your application rate.
Please contact megan@nearsouthsidefw.org to discuss late registration availability.
__________________________________________________
This is for brick-and-mortar businesses located in the Near Southside who will be hosting artists or art experiences during ArtsGoggle.
Please contact megan@nearsouthsidefw.org to discuss late registration availability.
__________________________________________________
For those selling ready-made food products for consumption at the festival. Think lunch, dinner, sweets, iced tea, bakery items, etc.
Please contact megan@nearsouthsidefw.org to discuss late registration availability.
__________________________________________________
We offer a free application for performers who are interested in booking consideration and typically book between 30-50 acts for ArtsGoggle annually, with a goal of paying all acts.
All stages have been filled at this time.
__________________________________________________
APPLICATION APPROVAL Acceptance and non-acceptance of applications will be at the sole discretion of ArtsGoggle Management and will be based on the information given by the applicant on their application, meeting with approval the expectation for quality, diversity and merit.
SET UP Outdoor artist and vendor set up begins as early as 8:00am, depending on your assigned location. South Main Village Gallery at Goggle indoor artists may make private arrangements with their venue hosts to coordinate installation.
NO SUBSTITUTIONS Artist, venues, food vendors and musical/entertainer positions cannot be transferred, sublet, franchised or sold to any other person, nor can they be shared with another partner without written approval from ArtsGoggle Management.
CANCELLATIONS Notification of non-attendance is required. If no notification is given the artist, food/sweets/drinks vendor, musician or venue will be prohibited from participating in all future events. Application and participation fees will not be refunded, as this is not a participation fee but instead an application fee, so even with notice of cancellation we cannot provide refunds.
WEATHER POLICY Management is not responsible for adverse weather conditions so there are NO REFUNDS FOR THIS REASON. The event will operate in varying weather conditions and artist must be prepared for adverse weather. Depending on the severity of the weather forecast, ArtsGoggle Management reserves the right to delay the event opening, close early, cancel the event, or postpone to another date for the safety of all involved. If ArtsGoggle is delayed, cancelled, or postponed due to weather all artists will be notified via email with as much advanced notice as possible. We understand the amount of time, effort and money that is required to participate in an event such as ArtsGoggle and greatly appreciate your commitment. All decisions will be made keeping in mind the substantial investments made by participating artist, food vendors, sponsors, entertainers, venues and volunteers. PLEASE, we cannot stress this enough, please keep your phone or other devices charged and handy so that you are able to monitor your email beginning 72 hours prior to ArtsGoggle and during the event. Artists who have work that is especially vulnerable to weather must use their best judgment about the risks of participating in an outdoor event. No refunds will be issued if you decide not to participate. If you should choose not to participate due to adverse weather conditions, we request that you notify management via email. Management will not be held responsible for any loss, damage or injury whatsoever resulting from adverse weather conditions.
__________________________________________________
Fine Print for Artists
TO QUALIFY AS AN ARTIST:
You must be an artist selling or showcasing artwork that you have made. No MLM or corporate mass production work.
Your artwork must be deemed appropriate for a festival environment.
You must be in attendance the day of the event.
All artists must apply individually even if you are planning to share a booth space.
You need to be aware of the supplies that you are required to bring to the festival, list below.
THE ART SHOWN MUST BE MADE BY THE ARTIST PRESENT
Please do not apply if you are selling factory-made or mass produced items. No direct sales or multi-level marketing companies allowed. Applications such as these will be rejected without refund. Art that is clearly not the original work of the artist, that is imported or purchased from a wholesaler or artwork that is deemed by Management to be inappropriate (eg: discriminatory or offensive) will not be considered, and if it is identified during the festival the artist/booth attendant will be asked to leave without refund. If you have questions about the appropriateness of your artwork, please contact us in advance to discuss. There is no minimum or maximum for the number of works shown. Please use good judgement in providing enough artwork to have a strong presence but not so much that it overwhelms our booth, venue or the patrons. Simply put, ArtsGoggle only allows for the sale of artwork made by the artist presenting it at the festival. Reproductions of your own artwork, such as prints or giclées, are accepted.
ALL ARTISTS MUST REGISTER TO PARTICIPATE IN ARTSGOGGLE, regardless if you are sharing a booth or participating at an indoor venue.
SHARING A BOOTH?
We welcome artists to share a booth/tent space if you wish. When filling out your application you will be able to indicate that you would like to share a booth and you can also tell us which artist you are planning on sharing with. Both artists should indicate the same "sharing" plans on their individual applications. We require that both participating artists, regardless of sharing, register for the event.
SHOWING NEAR ANO THER ARTIST
Artists may request to be on the same outdoor block or indoor venue as another artist. We will do our best to accommodate all artist requests to the best of our availability. A request made does not constitute a guarantee.
COLLABORATING ARTISTS
If the artwork shown is the EQUAL collaborative effort of two or more artists, you may apply via one application. An example of a collaborative art piece, and thus an application where both artists would be considered a collaborative team, would be custom knives where one artist is the metalsmith for the blade and the other artist is the woodworker for the handles. If each piece of art is made in collaboration with each other, artists may apply putting both artist's names in the single application. If not, both artists must register separately. Only in this collaborative art scenario can two+ artists apply using on application.
LOCATION OPTIONS:
1.) OUTDOOR STREET BOOTH SPACE ON MAGNOLIA AVENUE This is the primary venue for artists at ArtsGoggle. We strongly suggest that you select this location for the festival if you do not already have arrangements for another indoor location. ArtsGoggle closes Magnolia Avenue to car traffic from 8thAvenue to S. Main Street, more than a mile in length, and opens the street to host more 1,000 art booths and four live music stages. All of the artist's booths are placed in the center of Magnolia Ave., with artist tents placed side-by-side and back-to-back and power service between the backs of the tents. You may request either a 10' x 10' booth space or an expanded booth space of 10' x 20' without additional fees incurred. WE DO NOT PROVIDE THE TENT FOR THE ARTIST. Outdoor artists will be given street space and power for lighting, but all other supplies are the responsibility of the artist. Artist will be assigned to a specific block and will be given a scheduled arrival time based on their assigned position on the street. Artists may request a specific block assignment in the application process. We will work to accommodate all artist requests but cannot guarantee that your request for a specific block can be fulfilled. Artists may also request the opportunity to participate on the same block as another registered artist with the festival. We will also work to ensure we fulfill these requests to our best ability. This creates an exciting atmosphere that completely transforms the street into a vibrant public space and also provides a premium sales opportunity for artists participating outdoors.
2.) INDOORS AT AN OFFICIAL ARTSGOGGLE VENUE IN SOUTH MAIN VILLAGE Artists who wish to show art a location outside of the Magnolia Avenue street festival may request an indoor venue. Indoor venues are simply Near Southside businesses who register to host an artist to display their work inside their business the day of ArtsGoggle. Artists who apply with a request to participate indoors will be assigned to an indoor venue in South Main Village and will receive their indoor venue assignment after registration has closed on September 2. We strongly encourage you to reach out to businesses yourself to make indoor arrangements prior to registering if you have strong preferences about your indoor location.
3.) INDOORS AT AN OFFICIAL ARTSGOGGLE VENUE IN MAGNOLIA VILLAGE Magnolia Avenue's ArtsGoggle footprint is predominantly an outdoor art show. WHY OUTDOORS? Over the years, it has become increasingly apparent that outdoor artists receive the greatest amount of traffic to their booths and therefore have the best opportunity for sales/exposure. Indoor space is also very limited. For this reason, we will assign all artists to an outdoor space along Magnolia Avenue unless the artist has made private arrangements with an indoor venue prior to registering for ArtsGoggle. Artists wishing to be indoors on Magnolia Avenue must make arrangements on their own with their venue, as we are not able to help identify indoor venues for artists on Magnolia Avenue. To participate and be listed in the official ArtsGoggle program, both the artist and venue must register with the event. Venue registration is FREE for Near Southside, Inc. Members and $100 for non-member venues. Once you have made indoor arrangements simply complete your ArtsGoggle application with the venue address, name of business where you will be located, and contact information of your ArtsGoggle venue host. If you notify us that you are seeking indoor space and then are unable to identify an indoor venue, you are welcome to participate outdoors so long as you update your application BEFORE September 2, 2019 stating you will be participating as an outdoor artist.
ELECTRICITY
ArtsGoggle provides generators throughout the Magnolia Avenue festival site for and will coordinate a power connection for each outdoor artist during set up. We are able to provide a sufficient amount of power for each artist to have booth lights (we strongly recommend using LED lights if possible) and to charge ONE small handheld electronic device. Our power supply is not sufficient for items with motors, fans or for booths needing a substantial amount of lighting. If you would like to discuss additional power accommodations, please make sure to detail this request on your application. Artists participating at an indoor/outdoor venue in South Main Village or an indoor venue on Magnolia Avenue you should discuss power arrangements directly with the venue who will be hosting you.
ARTISTS ARE RESPONSIBLE FOR PROVIDING TENT AND ALL DISPLAY ITEMS NEEDED.
This includes tents, tent weights, tables, chairs, lights, displays, hanging surfaces, etc. We do not provide tents, table or chairs to artists. You will be responsible for bringing your own lighting, extension cords and power strips as well.
UNDERSTANDING CULINARY ARTISTS VS. FOOD VENDORS
Culinary artists are artists selling specialty food products that are CANNOT be eaten at the event. Think jam, jellies, salsa, bread loaves, hot sauce, coffee beans, spice mixes, etc. Culinary artists should submit an ARTISTapplication for $90 and select "culinary arts" as their medium in the application. All items sold must be packaged for consumption AFTER the event. Food sales for consumption at the event are the exclusive right of the ArtsGoggle food vendors who pay $250 to participate. Culinary artists should still seek any necessary health permits for food sampling or food handling.
Food/Sweets/Drinks Vendors are those selling prepared items that CAN easily be enjoyed at the event. Think lunch and dinner foods, popcorn, snacks, baked goods, ice creams, brewed coffee and tea, etc. If you would like to participate as an ArtsGoggle food vendor, please apply using that application. If accepted, the fee to participate is $250.
__________________________________________________
Fine Print for Food/Sweets/Drinks Vendors
Free application.
Deadline for application is September 2, 2019.
Fee is $250 if approved and payment must be submitted no later than October 1, 2019 to reserve your space at the festival.
Your company will be given a space for food sales or sampling of food, sweets or non-alcoholic drinks. Tent/canopy, all equipment and display items are to be supplied and staffed by you. This opportunity gives your business maximum face-to-face sales exposure with thousands of ArtsGoggle patrons. Food trucks are also accepted. In cases where multiple applicants serving the same cuisine are considered, preference will be given to brick-and-mortar restaurants located inside the Near Southside boundaries. ArtsGoggle does not allow alcoholic beverages to be sold or sampled at the event due to permitting and insurance restrictions.
SET UP
Set up begins as early as 8:00am depending on your assigned location.
LOCATIONS
All food vendors will be assigned to a location along W. Magnolia Avenue unless the vendor requests to participate at South Main Village's Gallery at Goggle
HEALTH PERMITS
Vendors are required to obtain all required health permits and should anticipate an inspection by the City of Fort Worth Health Department for public safety purposes. For questions regarding food permits and public safety procedures we recommend contacting:
Andria Ellis, R.S. Consumer Health SupervisorMosquito Surveillance Team Supervisor Code Compliance/Consumer Health818 Missouri Ave, Fort Worth, TX 76104Office Number: 817-392-6991Email: Andria.ellis@fortworthtexas.gov
__________________________________________________
Fine Print for Venues
Venues are Near Southside businesses, property owners, and spaces wishing to host artists or arts entertainment during ArtsGoggle. Venue status allows businesses located inside the Near Southside district boundary to participate as an official ArtsGoggle venue and to have their programming promoted via the event program, communications and official trolley service.
Venues have a FREE application that does not automatically guarantee participation. ArtsGoggle management will review your application and contact you with approval if you have been accepted in the festival. Deadline for this application is September 2, 2019.
If approved, cost to participate Free to NSI members | $100 per venue for non-NSI members.
Non-NSI members must submit payment no later than October 1, 2019.
To qualify as an official venue, you must contribute one or more of the following to the ArtsGoggle experience at your business:
An artist/s showcasing their artwork. Artists are also required to register with ArtsGoggle and pay the $90 registration fee as well.
Live music or performance art that you have booked
An ArtsGoggle-specific menu that provides quick service food options
An artistic experience that adds value to the event, such as a public art piece or interactive art opportunity
As a venue you receive a listing in the ArtsGoggle program to include:
Business name, address, website, phone number and email contact
A photo of your choice
If hosting an artist/s their ArtsGoggle profile will be placed within your listing
Bullet points about how you are participating in ArtsGoggle
VENUES ARE RESPONSIBLE FOR FINDING THEIR OWN ARTISTS.
It is very rare to have artists who apply seeking indoor space without having already made arrangements. For this reason, we strongly encourage venues to independently identify artists who would like to be hosted inside your space. Please make sure that you communicate directly with your artists to discuss how, when and where they will be allowed to display inside your venue. It is critical that the venue be willing to stay in close communication with the artist or entertainer they have booked for ArtsGoggle to ensure a successful day for all involved.
THE VENUE AND ALL HOSTED ARTISTS MUST APPLY.
If you are planning to host an artist, please make sure that your artists all complete artist applications for ArtsGoggle. This not only gives the artist a formal listing in the official ArtsGoggle program but it is also critical to ensuring your venue has a correct listing in the program. In addition, those artist fees are used to help support the ArtsGoggle trolley service that circulates people to your venue.
ALL ART SHOWN MUST BE MADE BY THE ARTIST PRESENT
ArtsGoggle does not require a minimum or maximum for the number of works shown by an artist, so please work directly with the artist to make plans for your expectation. Please use good judgment in providing enough artwork to have a strong presence but not so much that it overwhelms our venues or patrons. Simply put, ArtsGoggle only allows for the sale of original art. Please do not make arrangements with artists who are representing factory-made or mass produced items. No direct sales or multi-level marketing companies allowed. Art that is clearly not the original work of the artist, that is imported or purchased from a wholesaler or artwork that is deemed inappropriate (eg: discriminatory or offensive) by Management will not be considered, and if it is identified during the festival the artist/booth attendant will be asked to leave without refund.
__________________________________________________
Trouble-shooting for applications
I can't log into my account
First, it is important to understand that we have launched a new ArtsGoggle registration website this year. It will look very similar to last year's website, however it has a much better application review tool for us. This means that if you are visiting the registration website for the first time this year you will need to establish a new username and password. You can use the same username as you have used in previous years. Or, if you prefer, you can set up a new username and password.
IF THIS IS YOUR FIRST VISIT TO THE 2019 ARTSGOGGLE REGISTRATION:
1.) Start by going to portal.nearsouthsidefw.org
2.) If this is you first visit make sure to sign in using the PINK "Create a new account"
3.) You will need to check your email for an account activation email.
4.) Once you've activated your account (confirmed your email) you can then sign in using the TEAL boxes.
IF YOU HAVE ALREADY SET UP AN ACCOUNT AND ARE RETURNING TO portal.nearsouthsidefw.org:
1.) Please make sure to sign in using the TEAL boxes
IF YOU HAVE PROBLEMS LOGGING IN please make sure to try signing in both ways before contacting us for help. First as a new user with the pink boxes (which will notify you if you already have an established account) and then as returning user with the teal boxes. If neither way will work, it likely means that you have established an account but never activated your account via email. If this occurs, please email me with this title "Help Activating My Account" and I should be able to resend the activation email to you over the weekend as time allows.
I purchased an application but now cannot find it
We had a small glitch during a period of registration where our software underwent an automatic update. During the update period any applications that were purchased were not automatically visible on your user account. We are very sorry for this inconvenience and can easily work to confirm if this has happened to you and correct the problem. If you believe this has happened to you, please contact our website developer Mike Graham at mike@ascendconcepts.com
When I try to submit my application it keeps loading and then refreshes and the form is blank
We have found that while this issue is rare, it is happening to a few people. The most likely culprit is that the images you are trying to upload are too large. If this occurs, please make sure that all of your images are less than 3MB in size. If your images are small and this is still happening, please contact our website developer Mike Graham at mike@ascendconcepts.com
Help, I don't understand the application process!
Applying for ArtsGoggle is easy.
1.) Create a username and password at portal.nearsouthsidefw.org
2.) Confirm your account via a confirmation email that the website will automatically send to you
3.) Log in and get started by clicking the pink "ArtsGoggle registration" button
4.) Purchase the ArtsGoggle application by clicking the green Artist Registration "Buy Now" button
5.) Review the Artist Participation Details and if ready to proceed, click the teal "Add to Cart" button
6.) Complete the pre-checkout form with your first name, last name and business name
7.) Purchase the application! (Make sure to apply any discounts such as student discounts at this point)
8.) After checking out, make sure to complete your application and submit it for our review. At this point you can save your work and come back later if needed. Just remember, all applications must be submitted by Monday, September 2 to be considered for this year's ArtsGoggle.
9.) After submitting your application for review, you can log in to portal.nearsouthsidefw.org to check for updates or you can make changes such as adding information or better work sample images and resubmit for our review. Remember, every time you make changes to your application it will put the application back in the "review" process.
I don't know if my application is complete?
If you aren't sure if your application has been submitted here is an easy way to check. Log in and look to see your application's status. If your application is "submitted pending review" or "pending approval" this means we have not yet reviewed your application and you are just waiting on us. Other statuses that you may see are "approved", "rejected pending correction" (check your email for the reason), or "rejected" which means we were not able to accept you for this year's ArtsGoggle.
__________________________________________________
Who produces ArtsGoggle?
EVENT PRODUCER
ArtsGoggle is presented by Near Southside, Inc., the non-profit redevelopment organization working to revitalize this important urban neighborhood, in partnership with our sister organization Historic Southside, Inc.
ArtsGoggle is an expansion of Near Southside Inc.'s efforts to promote the Near Southside and build the community fabric essential to our continued development. Since our founding in 1995, NSI has led development and promotional initiatives that have successfully transformed the Near Southside into one of the region's most distinctive and vibrant urban districts. Signs of NSI's 25-year revitalization effort are evident throughout the district, perhaps most apparent along Magnolia Avenue, South Main Street, and Park Place Avenue, home to the city's most eclectic selection of locally-owned businesses.
TAX INFORMATION
Historic Southside, Inc., managed by Near Southside, Inc., is a 501(c)(3) non-profit organization. Sponsorship contributions made to Historic Southside, Inc. are deductible as charitable donations. W-9 forms will be provided at your request.
CONTACT
Megan Henderson Director of Events & Communications at megan@nearsouthsidefw.org.