ArtsGoggle - Saturday, October 20, 2018
900+ ARTISTS | 50+ BANDS | 2 VILLAGES | FREE COMMUNITY EVENT
Magnolia Village
South Main Village
Fairmount
VOLUNTEERS NEEDED - Sign up to be our hero or heroine and get a really rad t-shirt and our neverending admiration as a thank you!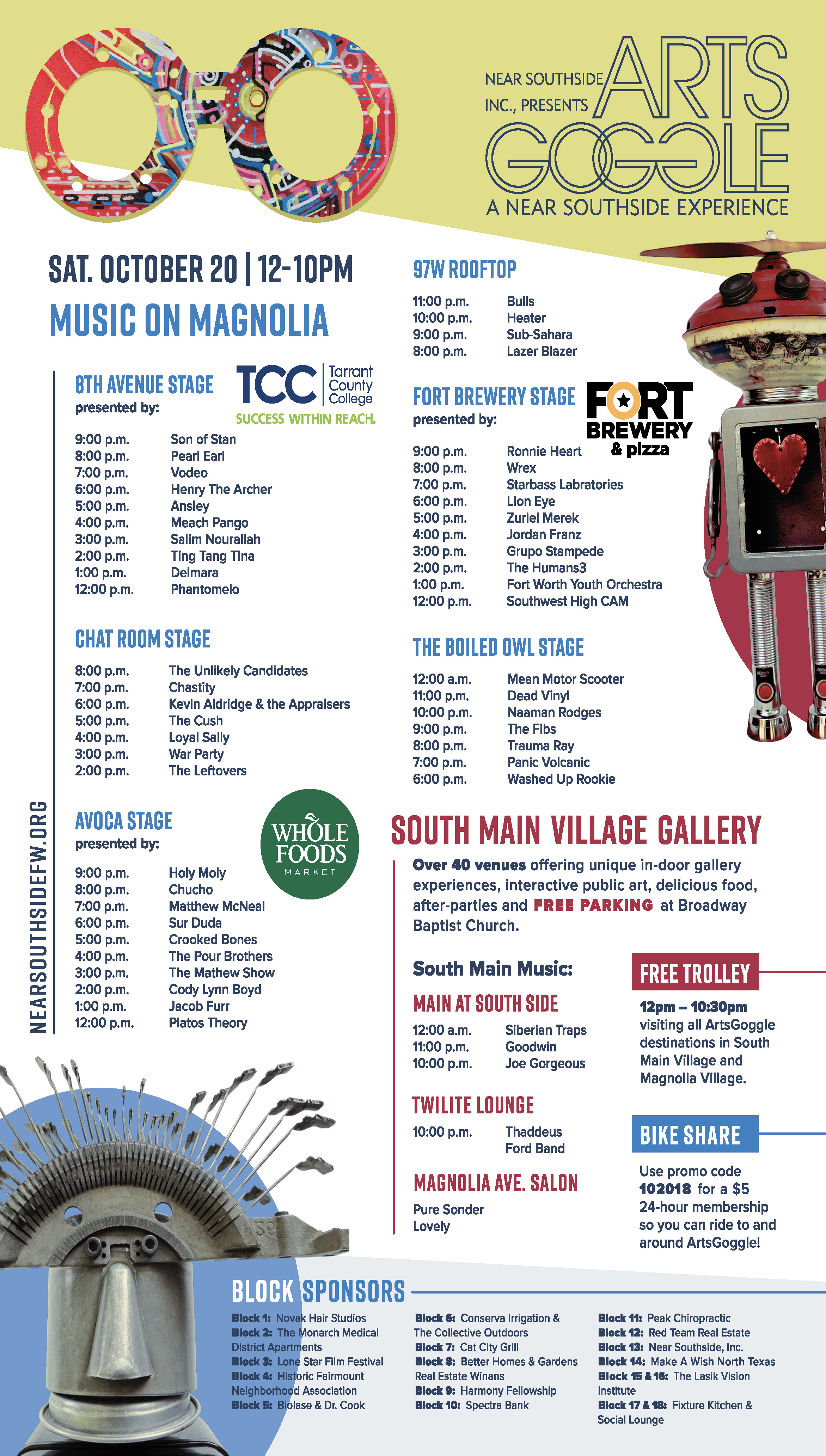 NEW THIS YEAR - THE ARTSGOGGLE TROLLEY!
Thank you to Amphibian Stage Productions for helping to make this possible. The ArtsGoggle Trolley is a FREE way to get around between the outdoor festival on Magnolia Avenue and the indoor participating venues in South Main Village. They'll also help guests access free festival parking throughout the District. Park, ride, GOGGLE!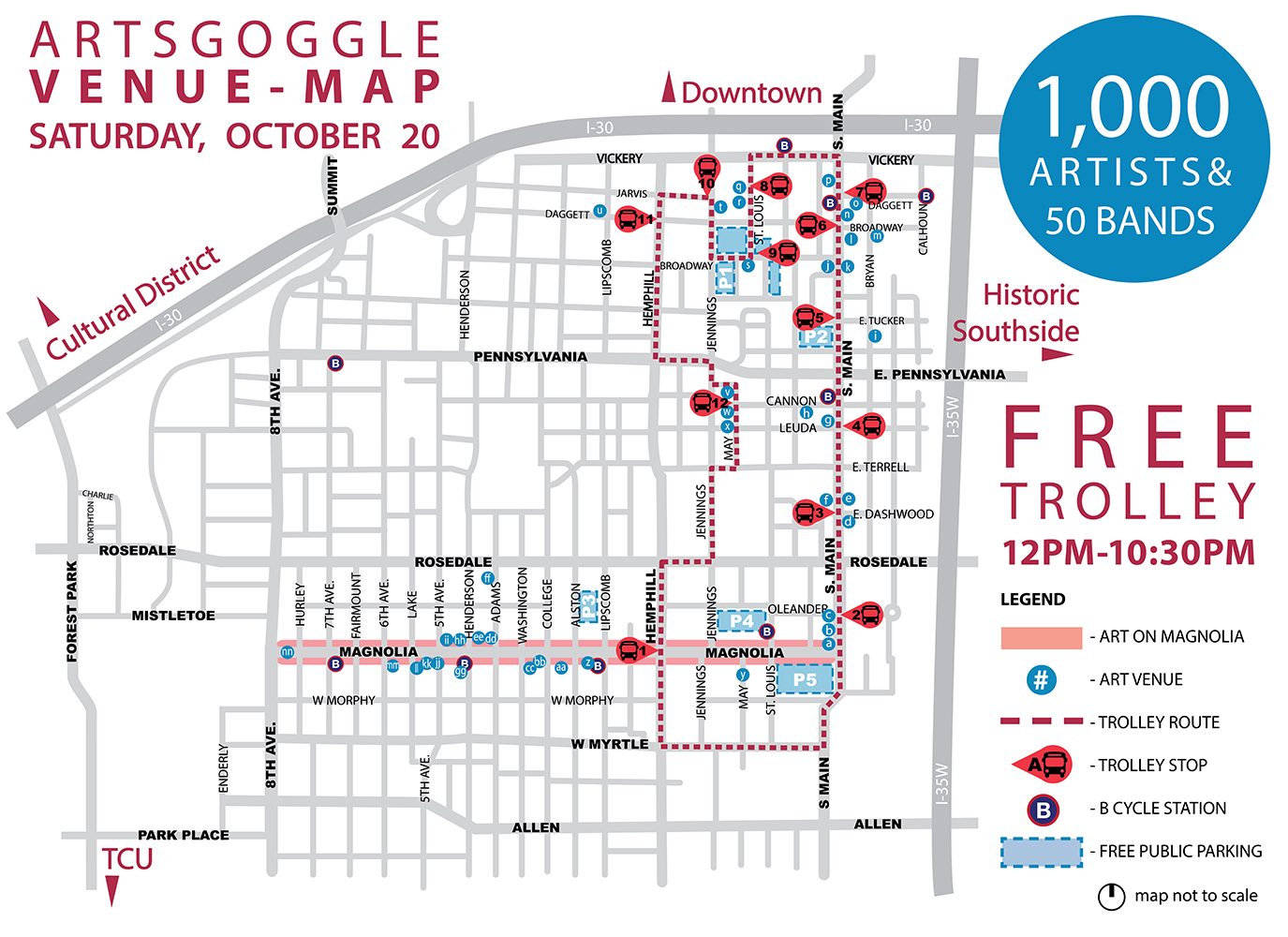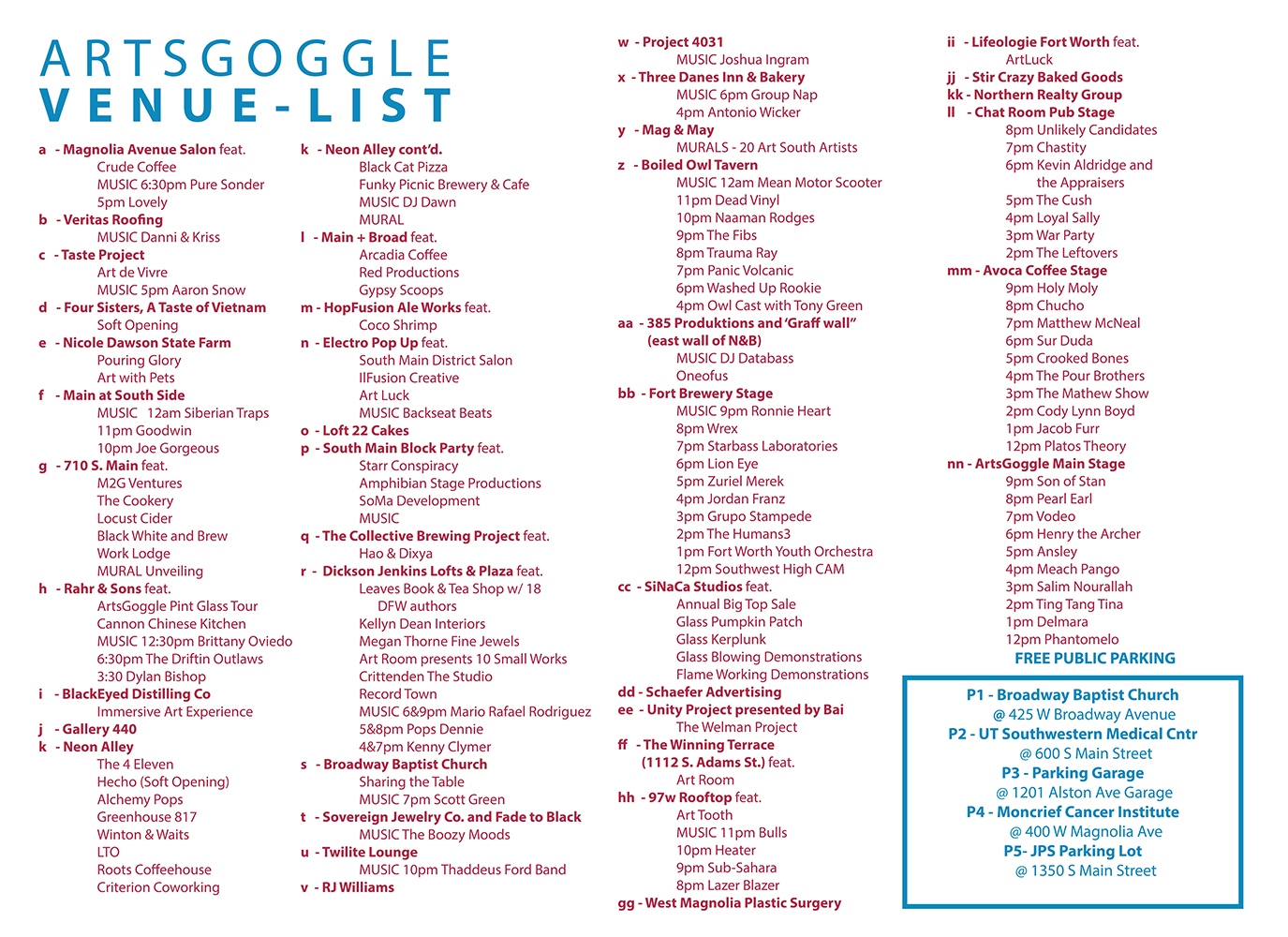 CELEBRATING 16 YEARS AS THE NEAR SOUTHSIDE'S PREMIER ARTS EVENT
Since its inception in 2003, ArtsGoggle has become Fort Worth's premier festival of local arts. The event is hosted in the Near Southside, an eclectic neighborhood of historic elegance and urbanism immediately south of the central business district of Fort Worth. This free to the public, family-friendly event attracts a crowd of 50,000+ that are as diverse as the neighborhood itself. Residents from the nearby Fairmount, Mistletoe Heights, Berkeley Place, Historic Southside and Ryan Place neighborhoods are joined by medical district workers and visitors from throughout the region. Offering live music, artistic displays of every kind, food, drink, and fun for everyone ArtsGoggle is a wonderfully pleasant testament to the community spirit that fills the Near Southside.
ArtsGoggle is unlike any event in Fort Worth, as it exclusively focuses on highlighting the work of local artists, musicians and performers of all mediums and experience levels. ArtsGoggle prides itself in hosting a casual, approachable and vibrant environment to appreciate art and learn about the talents within our own community. For more than a decade, ArtsGoggle has been the launch pad for many artists showing their work for the first time. ArtsGoggle provides a supportive setting for both aspiring and professional visual artists, to display, sell and seek comment on their artwork.
Embracing all arts, the event also boasts an impressive program of performance art and music. The 2017 ArtsGoggle featured more than 50 bands, many of which have members who live or work in the Near Southside. The entertainment at ArtsGoggle is diverse and showcases music from a variety of cultures and styles. The event partners with arts organizations across Fort Worth to draw attention to their programs. In years past ArtsGoggle has hosted the Fort Worth Opera for pop-up concerts; showcased Ballet Folklorico de Azteca for a colorful dance performance; and hosted The Bucket List Jazz Band, a band dedicated to the lifelong dream of 90-year-old Jim Milam to resurrect Dixieland Jazz.
TWO VILLAGES - TWO UNIQUE APPROACHES
MAGNOLIA VILLAGE - TAKING IT TO THE STREET
ArtsGoggle's outdoor fun takes place along a one-mile stretch of Magnolia Avenue, the Near Southside's signature street. The festival closes Magnolia Avenue to car traffic from 8th Ave. to South Main Street and fills 18 blocks with more 800 visual artist booths and four stages with music and performance art of all varieties. This exciting street festival atmosphere that completely transforms our Near Southside public spaces. One of the event's goals – along with celebrating art of all kinds – is to showcase the unique and memorable character of the Near Southside. The vibrancy and excitement of the outdoor block party captures the neighborhood spirit perfectly, as friends meet to share ArtsGoggle highlights and discoveries. It is easy to enjoy everything ArtsGoggle has to offer. Visitors are invited to park their cars and rediscover this revitalized urban neighborhood by foot or by bicycle, including Fort Worth Bike Sharing bikes.
SOUTH MAIN VILLAGE - GOING OLD SCHOOL WITH GALLERY at GOGGLE
ArtsGoggle started 16 years ago as the Near Southside's own indoor gallery night exhibition and remained almost exclusively indoors for the first decade of the event before spilling out onto the street. This year, in tribute to ArtsGoggle's unique start, more than 25 South Main Village businesses will open their doors in an all-day open house to show off the work of a wide array of local artists. This new ArtsGoggle special feature will be called Gallery at Goggle, and will showcase fine art, music, experiential art, and unique programming inside each of the participating businesses ranging from a breweries, bars and bakeries to creative firms, historic-preservation projects and theaters. In support of the Fort Worth arts community, these businesses clear their walls, rearrange furniture, and transform their traditional work environments into gallery space displaying the work of ArtsGoggle artists. Venues receive no compensation for hosting; in fact, they go to great expense and effort. This unique partnership between business and artist is a distinctive feature of ArtsGoggle. Gallery at Goggle will also include a fantastic selection of live music and performance art throughout the day. We hope you will join us for this special ArtsGoggle experience unique to South Main Village!
AFFORDABLE FOR ARTISTS AND PATRONS
The event is committed to keeping artist's fees affordable by requiring a registration fee of only $45, with no others fees to participate. ArtsGoggle is free to the public, with no wristbands, tickets, admission costs. Unlike many popular for-profit events in Fort Worth, ArtsGoggle is produced by a not-for-profit community organization so the event is exclusively focused on creating an opportunity to appreciate and celebrate local arts. All funds raised for the event directly underwrite ArtsGoggle and ArtSouth, a community-led public art program managed by Near Southside, Inc.
DATE Saturday, October 20, 2018
TIME Noon to 10:00pm
LOCATION Magnolia Avenue from 8th Avenue to St. Louis Avenue, 18 blocks
COST Free to the public