Friday on the Green - May 10, 2019
The region's best live music at a big Southside neighborhood picnic
FRIDAY ON THE GREEN is the once-monthly concert series presented April, May, June, September and October by Near Southside, Inc. and Historic Southside, Inc. The event is held at Magnolia Green, located on Lipscomb between Magnolia and Rosedale, and regularly attracts thousands of neighborhood families and visitors. Friday on the Green features the region's best live music, tasty food and drinks from Near Southside eateries, and the fun and relaxed atmosphere of a big neighborhood picnic. Groups of families and friends show up with blankets, chairs and pets to enjoy a lineup of four great local bands, children's activities and an artisan market.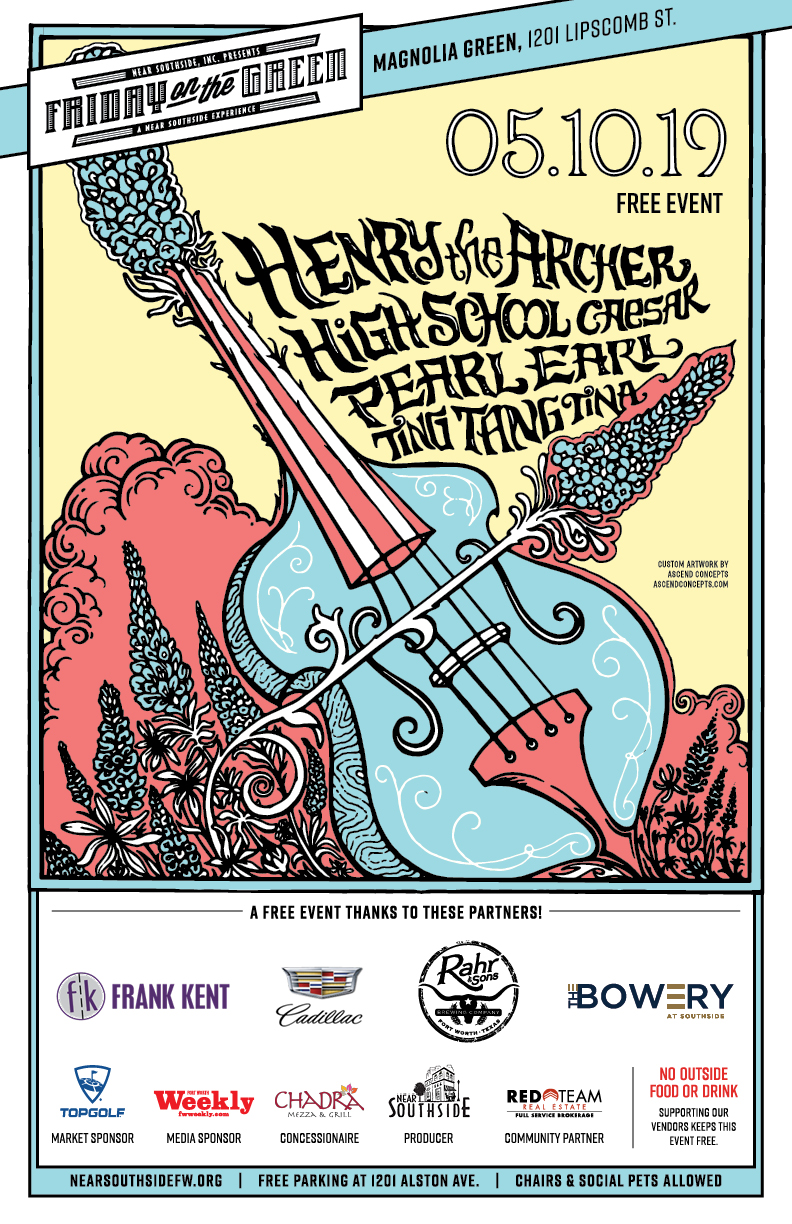 FAMILY-FRIENDLY | SOCIAL PETS WELCOMED | NO OUTSIDE FOOD OR DRINK PLEASE.
2019 EVENT DATES
April 12 | May 10 | June 14 | September 13 | October 11
TIMES 6:00 PM to 10:00PM
LOCATION Magnolia Green 1201 Lipscomb Street, Fort Worth, Texas 76104
COST Free to the public.
ATTENDANCE Each event typically brings an estimated attendance of 1,500-2,000 attendees
PRODUCER Friday on the Green is presented by Near Southside, Inc. and Historic Southside, Inc.
PARKING is available in the lots surrounding the park and also at the free public parking garage at 1201 Alston Avenue.
All food and drink vendor opportunities are full at this time.
QUESTIONS
Please contact Megan Henderson, NSI Director of Events and Communications, at
817-923-1343 or megan@nearsouthsidefw.org.