Open Streets
Bring Your Bikes, Boards, Skates, and Scooters!
Magnolia Village
Fairmount
Opportunities are available for Activity Providers, Market Vendors SOLD OUT, and Food & Drink Vendors. Please note that you will first be directed to log in or create a username and password for our website.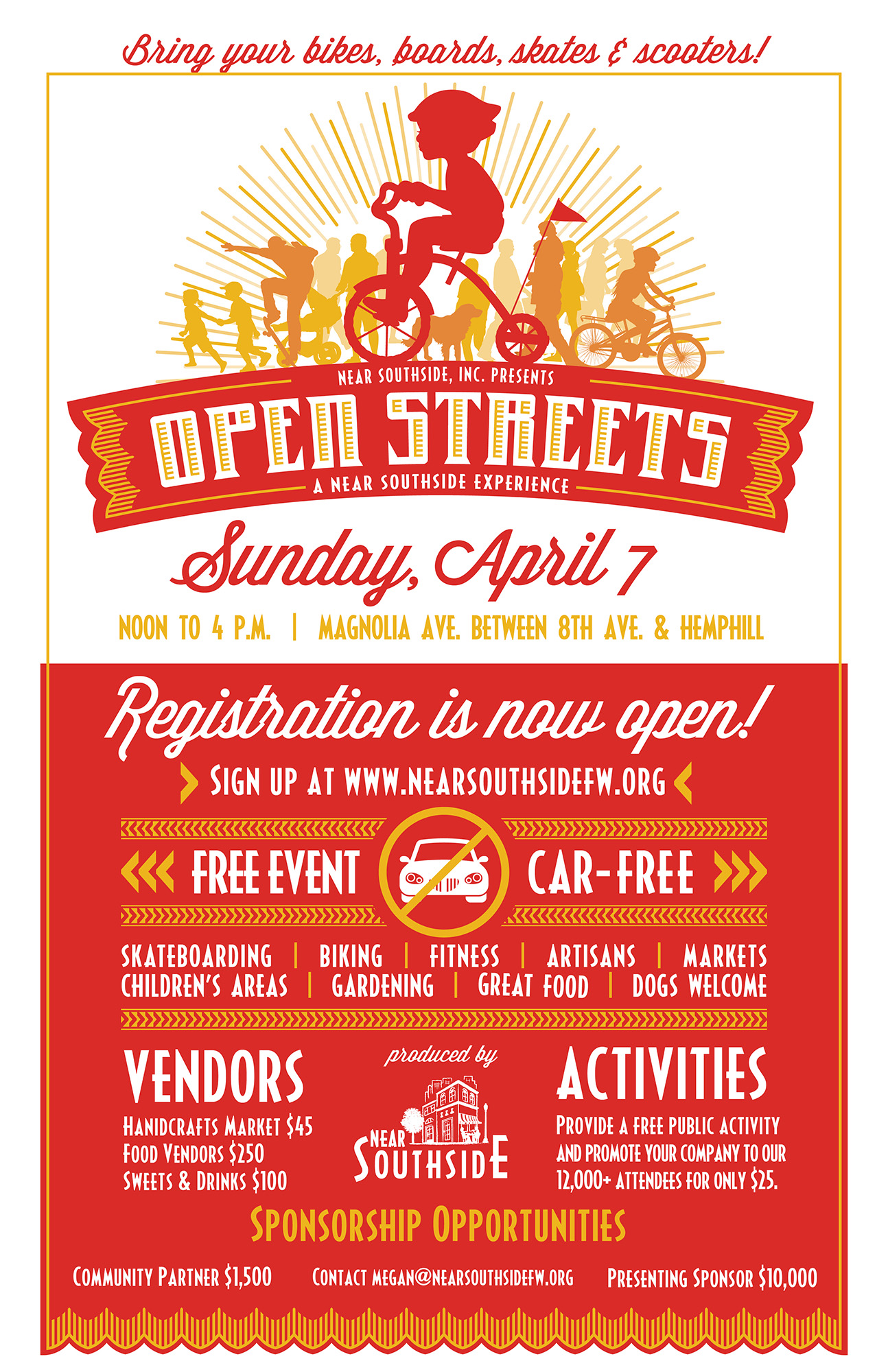 WHAT IS OPEN STREETS?
Open Streets is a four-hour Sunday event that closes Magnolia Avenue to vehicular traffic and opens it up to cyclists, food trucks, dog-walkers, skateboarders, yoga classes, face-painters and much more. The event is an expression of the Near Southside's community spirit in every way. Local businesses and other organizations set up a wide variety of free activities along the route, including temporary public art projects, pet adoptions, bike safety courses, children's art booths, fitness classes, and more. Neighborhood residents and volunteers play a critical role in making this day a success, setting up and breaking down barricades on event day, and spreading the word about the event and street closures in advance.

Open Streets is presented by Near Southside, Inc. and over the last 8 years has grown to be one of the Near Southside's most beloved community events with attendance in the thousands and more than 150 community partners providing FREE activities for our patrons.
GET INVOLVED
ACTIVITY PROVIDERS - $25
Are you willing to provide a free, family-friendly activity? If so, we would love to offer you space as our partner at Open Streets! Registration is only $25 to demonstrate your company's civic spirit to the 12,000+ people in attendance. This is a great opportunity to promote your business/organization in a grassroots, community-focused manner. Examples of successful actives from previous years include hula hoop competitions, kid's bicycle rodeo to teach safe riding practices, bike repair station, fitness obstacle course, big wheel races, community yoga, healthy grocery store shopping simulation, make your own wildflower seed bombs, etc. The wilder your activity, the more fun Open Streets will be.
MARKET VENDORS - $45
Market vendor positions for Open Streets have SOLD OUT. We'd still love you to consider participating as a "Community Activity Provider" where you won't have the opportunity to sell items but instead could host a free public activity to promote your business or teach people about your craft. The community activity provider application is still open and has plenty of room for you to apply. We encourage you to participate this way!

We allow space for

a small handful of market vendors

who sell locally handmade products, fresh produce and packaged foods or wares. The Open Streets market has a limited amount of space for vendors and focuses primarily on cottage foods, locally grown produce and plants. Think of our market block as a farmer's market and you've got the idea! Vendors will be accepted based on space availability and curated for variety. We request that market vendors also provide a free, fun experience for the public in addition to offering items for sale. Chalk for art, education about your growing practices, or a hands on demonstration are a great addition.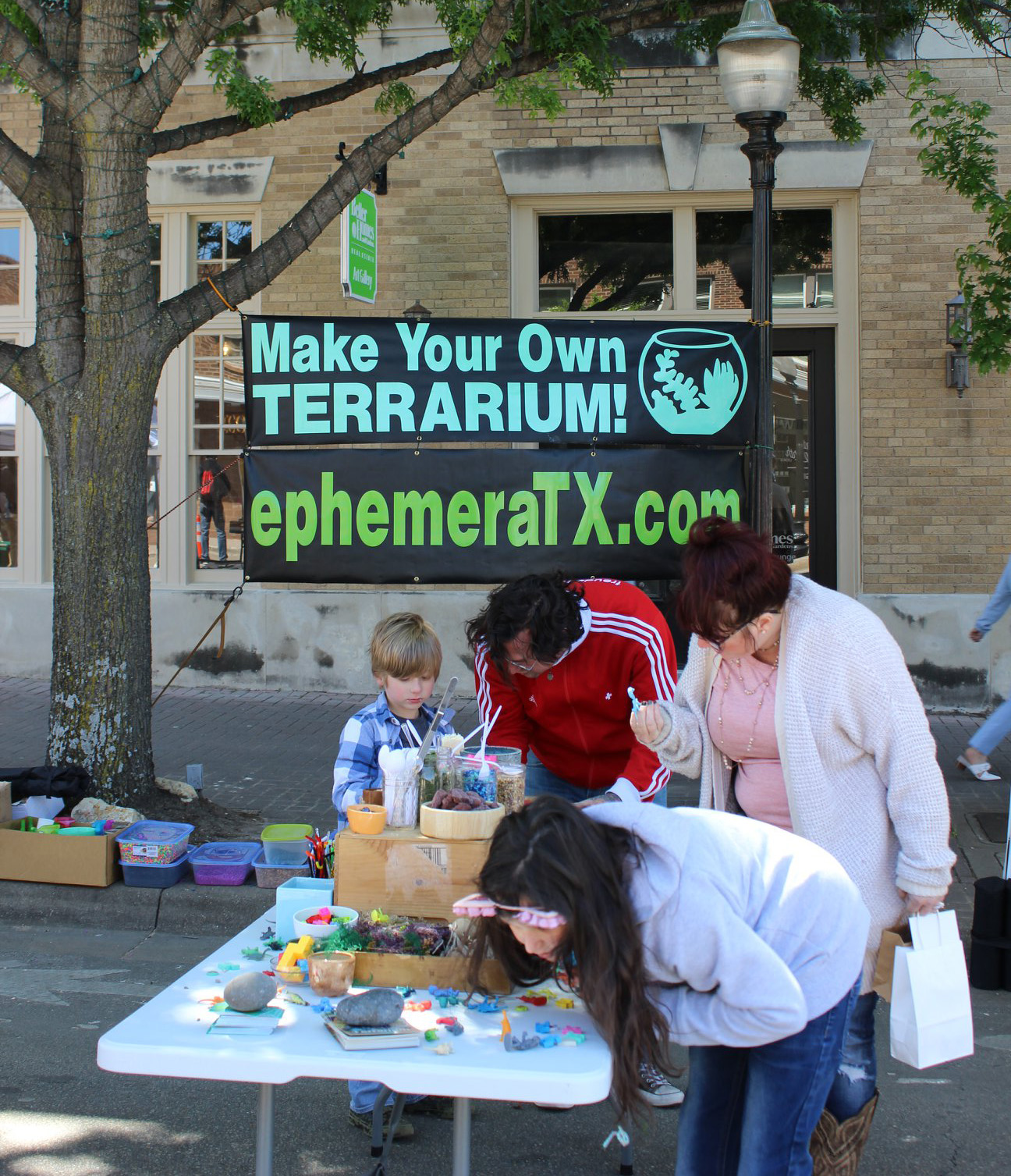 FOOD, SWEETS, AND DRINKS VENDORS
Participate in Open Streets as a vendor selling freshly prepared food, sweets, snacks or non-alcoholic drinks. We are seeking high-quality, healthy festival foods and treats. Food Vendors have a $250 registration fee, Sweets and Non-Alcoholic Drinks Vendors have a $100 registration fee. No payment is required to apply, but will be required upon approval.

FOOD VENDOR ($250 fee) vs. MARKET VENDORS ($45 fee)

Food vendors are defined as businesses selling prepared food items that are designed for consumption at the event. Market vendors are defined as businesses selling food/produce that are to be consumed after the event. For example, if you are selling freshly prepared nachos you would be considered a food vendor. If you are selling homemade jarred salsa you would be considered a market vendor. All vendors are required to seek the appropriate permits from the Fort Worth Health Department and should anticipate an inspection prior to or during the event by the health inspector.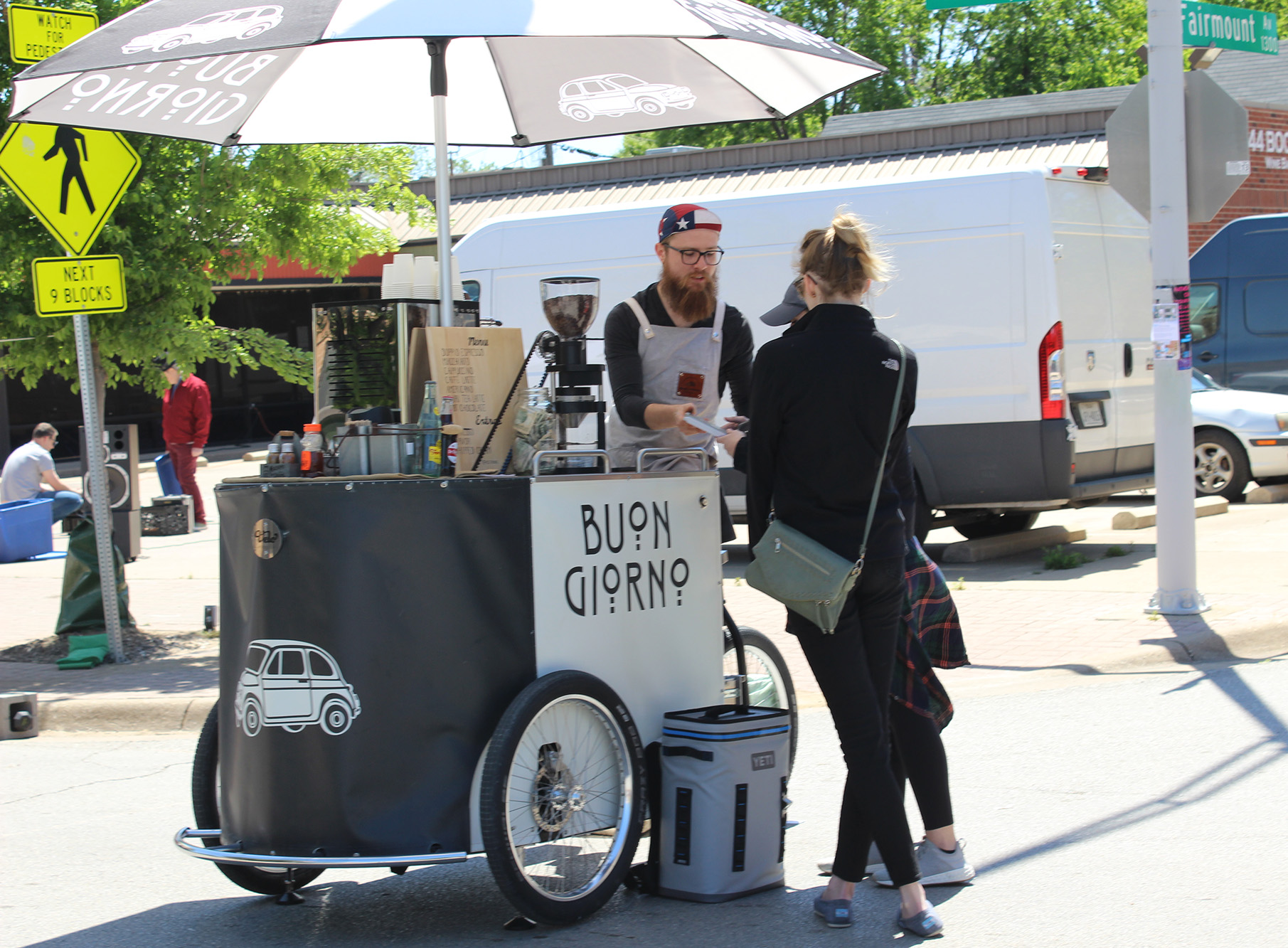 VOLUNTEERS NEEDED
Open Streets is produced by

Near

Southside

, Inc., your non-profit community revitalization advocates. We are a small staff of only six and would greatly appreciate your help as a volunteer for set-up and break-down at the event. All volunteers receive a custom Open Streets vintage-style t-shirt, very detailed instructions so you feel confident about your role at the event, and our gratitude!