OPEN STREETS 2020
Fort Worth's Outdoor Festival of Fun
Magnolia Village
Fairmount
***2020 Near Southside Community Events Update***
Our team at NSI is carefully watching and weighing the concerns over outdoor events and the COVID-19 outbreak. Public event producers in Fort Worth owe all our partners and the public careful consideration of how the virus might affect public health as it relates to Open Streets and Friday on the Green, as well as other outdoor events.
Our spring event season of Friday on the Green and Open Streets is currently ON PAUSE until we get further information and are able to decide what can be produced with the safety of our community as our first priority. We hope to have an update soon.
At this time we have canceled the April 10 Friday on the Green but remain cautiously optimisitic that we will be able to move forward with our May, June, September and October Friday on the Green events. Open Streets planning has been suspended until further updates from Tarrant County health officials can ensure public safety for large outdoor gatherings. The event is not canceled at this time. All event productions are subject to public safety best practices and planning for our 2020 season remains on hold until we receive updates from public health officies that ensure large outdoor gatherings are safe and permitted. Until that time, we appreciate your patience and partnership.
If you would like to stay apprised of any new information, please follow us on Facebook at Near Southside, Fort Worth and sign up for our newsletter by clicking the "GET UPDATES" button in the top right menu of this page.
Bring Your Bikes, Boards, Skates, and Scooters!
WHAT IS OPEN STREETS?
• Rolling fun on bicycles, boards, skates & scooters
• Healthy ways to get people moving
• Environmental advocacy for a sustainable neighborhood
• FREE family-friendly fun from 120+ activity providers
• Market featuring Locally-handmade artisan items
• A community community play-day dedicated to complete streets awareness.
Open Streets is a four-hour Sunday event that closes Magnolia Avenue to vehicular traffic and opens it up to cyclists, food trucks, dog-walkers, skateboarders, yoga classes, face-painters and much more. The event is an expression of the Near Southside's community spirit in every way. Local businesses and other organizations set up a wide variety of free activities along the route, including temporary public art projects, pet adoptions, bike safety courses, children's art booths, fitness classes, and more. Neighborhood residents and volunteers play a critical role in making this day a success, setting up and breaking down barricades on event day, and spreading the word about the event and street closures in advance.

Open Streets is produced by Near Southside, Inc. and over the last 10 years has grown to be one of the Near Southside's most beloved community events with attendance in the thousands and more than 150 community partners providing FREE activities for our patrons.
GETTING TO OPEN STREETS
Make your move to the Near Southside on Trinity Metro.
Plan your adventure at https://bit.ly/2IV77cJ.
PARKING
A free public parking garage is located at 1201 Alston Avenue.
DATE Sunday, May 17, 2020
LOCATION Magnolia Avenue from Hemphill to 8th Avenue
PRODUCER Open Streets is produced by Near Southside, Inc. and Historic Southside, Inc.
GET INVOLVED
ACTIVITY PROVIDERS - $25
Are you willing to provide a free, family-friendly activity? If so, we would love to offer you space as our partner at Open Streets! Registration is only $25 to demonstrate your company's civic spirit to the 15,000+ people in attendance. This is a great opportunity to promote your business/organization in a grassroots, community-focused manner. Examples of successful actives from previous years include hula hoop competitions, kid's bicycle rodeo to teach safe riding practices, bike repair station, fitness obstacle course, big wheel races, community yoga, healthy grocery store shopping simulation, make your own wildflower seed bombs, etc. The wilder your activity, the more fun Open Streets will be.
Registration is not yet open at this time. Please check back for updates.
VOLUNTEERS NEEDED
Open Streets is produced by

Near

Southside

, Inc., your non-profit community revitalization advocates. We are a small staff of only six and would greatly appreciate your help as a volunteer for set-up and break-down at the event. All volunteers receive a custom Open Streets vintage-style t-shirt, very detailed instructions so you feel confident about your role at the event, and our gratitude! Please contacr Natalie@nearsouthsidefw.org to volunteer.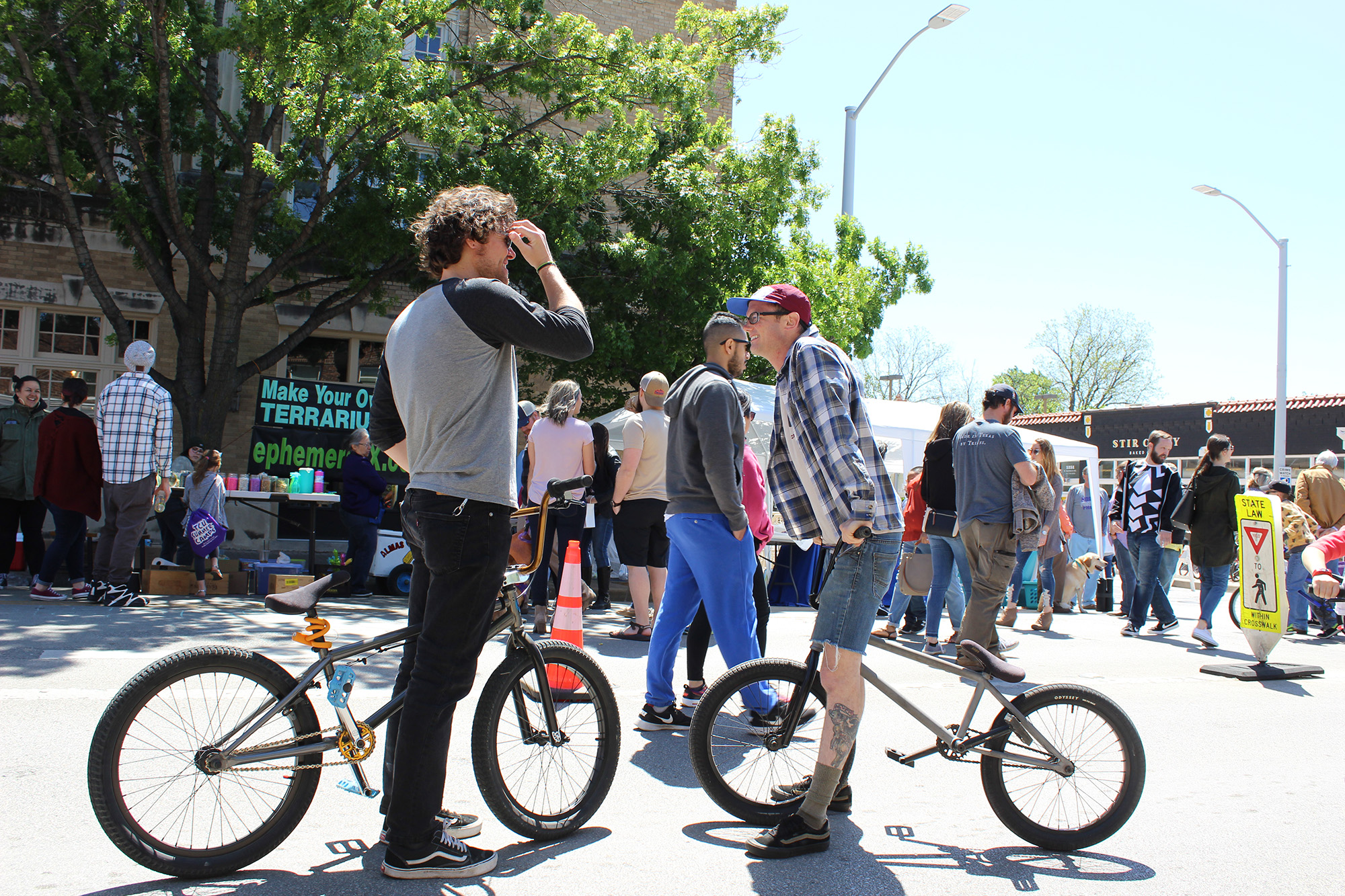 Historic Southside, Inc., managed by Near Southside, Inc., is a 501(c)(3) non-profit organization. Sponsorship contributions made to Historic Southside, Inc. are deductible as charitable donations. W-9 forms will be provided at your request.
Near Southside, Inc. is a private, member-funded, non-profit 501(c)(4) development company dedicated to the revitalization of Fort Worth's Near Southside. NSI began as a small coalition of Near Southside businesses and community leaders and has grown dramatically over the last decade. We invite you to join us as we promote the redevelopment of Fort Worth's Near Southside as a vibrant, urban, mixed-use neighborhood.