Fire Station Park Expansion
MAKE A DONATION TODAY AND DOUBLE YOUR IMPACT:
LATEST UPDATES ON FIRE STATION PARK!
With strong grassroots support already in motion, Near Southside, Inc. is kicking off a public campaign in support of a major expansion at Fire Station Park. Any contributions will be doubled as the City of Fort Worth matches donations up to a total of $600,000. Your generous support will accelerate exciting progress already underway: Final design plans are taking shape as we speak, and $56,000 has already been raised, and matched, thanks to an effort led by the amazing leaders of our Near Southside skate community.
WE NEED $544K TO REACH OUR GOAL!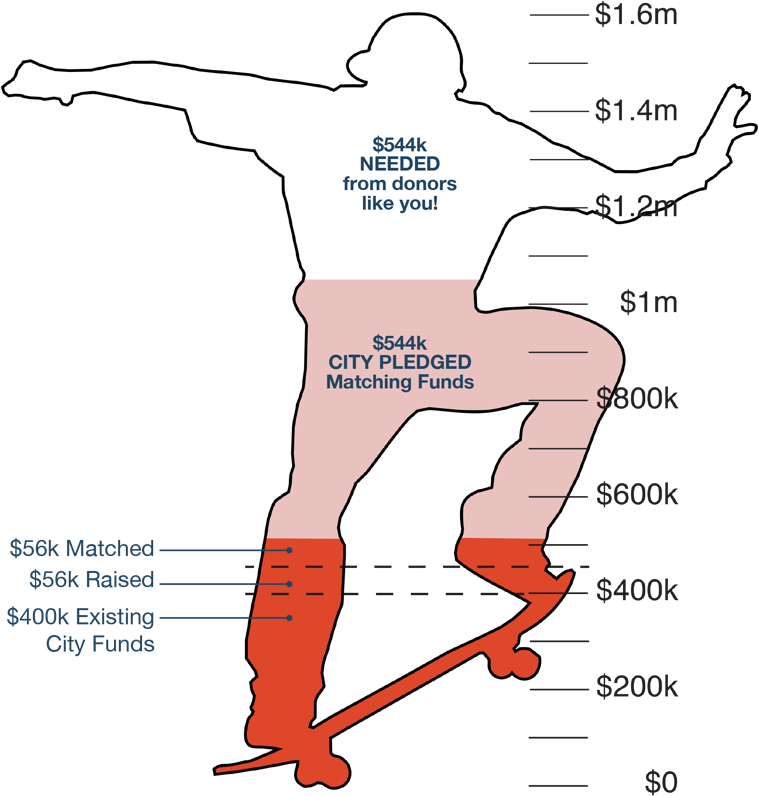 No doubt the Fire Station Park project is off to a promising start, but we won't bring this community dream to life without help from supporters like you.

The park, with a total budget of approximately $1.6 million, will deliver a signature public space unlike any other in North Texas. Fire Station Park will feature an exciting set of amenities including an urban skate plaza for all skill levels, pump track for BMX bikes, market plaza for local vendors and other gatherings, central green for open play and public events, and fenced dog park for unleashed fun.
This master plan was driven by extensive public input during community workshops, starting in 2016. Our Near Southside team, working with consulting partner Project for Public Spaces and the City's Park & Recreation Department, secured adoption of the park master plan by the City in early 2019 before turning full attention to final design plans and a fundraising campaign to turn the dream to reality.
Final design will be completed this year and our goal is to raise all funds by the end of 2021 and begin construction in early 2022. Please join this community effort to build Fire Station Park and deliver a signature public space for the Near Southside community and all of Fort Worth.
DONORS LIKE YOU CAN MAKE THIS HAPPEN!
The total project is estimated to cost $1.6 million and a fundraising campaign is now underway!
$400,000 of Near Southside park dedication fees have been secured to kick-start the project and develop construction documents.
$600,000 has been pledged by the City for a 1:1 match towards donations.

To date, the community has raised $56k, and is tasked with raising the remaining $544,000 to reach the project's overall goal. All donations will be matched dollar-for-dollar by the city. Near Southside, Inc. hopes to raise that money via:
o $500,000 from community partners and foundations
o $100,000 from public donations
A LITTLE BIT OF BACKSTORY
In early 2016, Near Southside, Inc., joined by the Hemphill Corridor Task Force and neighborhood groups, led the effort for the City's acquisition of a vacant parcel of land at 1616 Hemphill adjacent to the Fire Station Community Center in the Fairmount neighborhood of Fort Worth.
In December 2016, Near Southside, Inc. and consulting partner Project for Public Spacesheld the first Envision Hemphill workshop inviting community members to share their dreams for the park's master plan. Hundreds of Near Southsiders expressed strong support for an urban skate park as a primary feature alongside a bike track, central green and market plaza. At each of these meetings, the skateboarding community arrived in force, expressing their support for the park expansion and passionate belief that it should include a skate park. It was encouraging to see this vision was also supported by so many non-skaters and longtime residents, as they saw that the skate park could coexist with other park elements and strengthen the park's overall appeal.
Fort Worth's skateboarding community is growing, with participants ranging in age from 5 to 65, all eagerly awaiting the moment when Fort Worth will have a more centrally-located skate park. Currently, the closest is approximately 13 miles away via toll road, which is not always an option for the young people who need it most. Meanwhile, each year, this community works over many months to build a temporary skate park in use for one day at Open Streets, an annual spring festival that closes down Magnolia Avenue. Thousands of skaters gather for a skate jam that stretches over two blocks of Magnolia, and showcases – in spectacular fashion – the hard work and community spirit of the Near Southside's skateboard community.
Efforts like the Open Streets Skate Jam make this an exciting time for the sport of skateboarding, not only in Fort Worth's Near Southside, but across the globe, with the growing popularity certain to increase when skateboarding makes its debut in the Summer Olympic Games in 2020.
In December 2017, Project for Public Spaces presented the first-draft concept design for the park expansion to over 150 community members at the Fire Station Community Center to share their thoughts and feedback on. Once again, community members provided their input on things such as design aesthetic, materials, and programming features of the park.
This master plan reflects ideas expressed by the surrounding community and presents a park that provides enjoyment for all users, with primary features including a pump track, central green, market plaza and most importantly, the skate park that received such strong support throughout the public meetings.
In 2018, PPS delivered an implementation report for the expansion of Fire Station Park.
In early 2019, the City of Fort Worth officially adopted the community-supported Fire Station Park master plan and allocated $400,000 in Near Southside park dedication funds towards phase 1 design and development.
Today, with your donation towards the Fire Station Park Expansion, the pieces and partners are lining up to bring that energy to Fort Worth.
TAX INFORMATION
The Fire Station Park Expansion masterplan is a project of Historic Southside, Inc. Historic Southside, Inc., managed by Near Southside, Inc., is a 501(c)(3) non-profit organization. Contributions made to Historic Southside, Inc. are deductible as charitable donations.
Near Southside, Inc. is a private, member-funded, non-profit 501(c)(4) development company dedicated to the revitalization of Fort Worth's Near Southside. NSI began as a small coalition of Near Southside businesses and community leaders and has grown dramatically over the last two decades. We invite you to join us as we promote the redevelopment of Fort Worth's Near Southside as a vibrant, urban, mixed-use neighborhood.
Questions? Please contact:
Near Southside, Inc.'s Director of Urban Design and Placemaking, Allison Docker, at allison@nearsouthsidefw.org
Near Southside, Inc.'s Director of Communications & Events, Megan Henderson, at megan@nearsouthsidefw.org