SMALL STOPS Bus Shelter Design Competition
WINNERS ANNOUNCED:
We would like to thank all of the extremely talented architects, artists, and engineers from over two dozen teams. Your work is greatly appreciated and your entries truly inspiring beyond all expectations. The level of effort and creativity clearly shows that the SMALL STOPS competition was successful in achieving its primary goal: To generate big ideas and new approaches to bus shelters in Fort Worth. Please take time to review all of the submittals.
Announcing the winners:

Functional Category, Professional:
THE "R" STOP by HUITT-ZOLLARS, INC.

Artistic Category, Professional:
CUMULUS by FIRM817 & MATT SACKS

Functional Category, Student:
XAVIER KHAN, PASCHAL

Artistic Category, Student:
XAVIER KHAN, PASCHAL

View these winners and all submittals in this consolidated pdf (large file).
COMPETITION INFORMATION
Near Southside, Inc. and Leadership Fort Worth—in partnership with the Fort Worth Transportation Authority, and AIA Fort Worth—are pleased to announce SMALL STOPS: Designing Fort Worth Bus Shelters. This is a single-stage design ideas competition intended to catalyze sustainable, functional, and creative bus shelters for locations where there is limited space available.
Incentives for Participation: Entrants have several incentives to participate. First, the FWTA has agreed to contribute $10,000 funding toward the installation of the 'Functional' design stop (described below) and will consider utilizing the winner as the basis for a prototype for suitable "Small Stops" sites going forward. Second, Near Southside, Inc. has agreed to explore partnerships in pursuit of implementing the "Artistic" winner. (The winning firms or individuals for both locations would receive first consideration for final design work on any shelter that proceeds to implementation.) Third, the winners of the competition will be publicly recognized during a Friday on the Green event (date TBD). Finally, all winners will be invited to a small dinner reception hosted by the Leadership Fort Worth Small Stops Project Team.
Two shelter locations will serve as the design sites for the competition: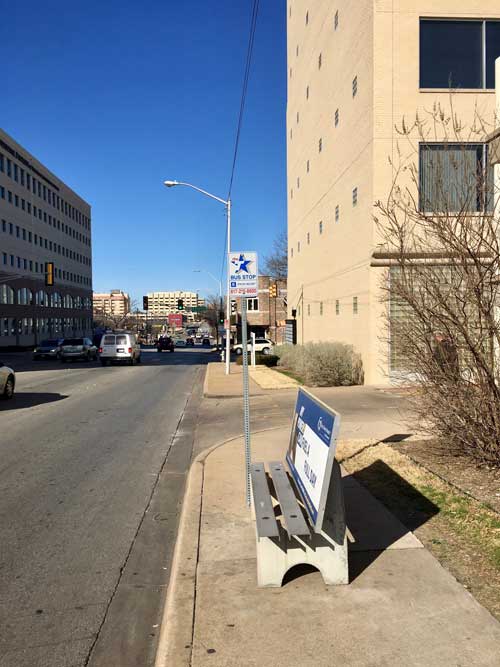 1) The east side of 8th Avenue just south of Magnolia Avenue
2) The north side of Pennsylvania Avenue just west of Henderson Street
Background
Working toward a world-class, multimodal transportation system is a top priority for Fort Worth's City Council, as well as other local organizations focused on economic and community development. An improved public transportation system is perhaps the most essential component of this effort. The Fort Worth Transportation Authority (The T) operates our transit system, which includes a network of local bus routes and a regional commuter rail line known as the Trinity Railway Express (TRE).
One of this year's Leadership Fort Worth (LFW) team projects is focused on the T's bus system and, more specifically, on the experience provided for transit riders waiting on the bus. Working closely with Near Southside, Inc. and other partners, LFW participants are conducting a design competition with the goal of producing visionary proposals for future bus stops in Fort Worth. Specifically, the competition will solicit innovative designs for shelters that improve a bus rider's experience at a location that does not accommodate a standard size bus shelter.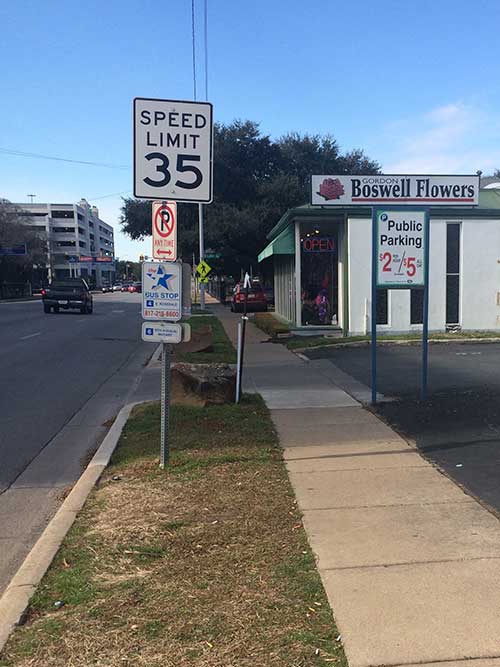 Challenge
The bus stop experience is critically important and one of the most influential factors affecting the overall appeal of a mass transit system. In Fort Worth, although TRE's commuter rail ridership is strong, the vast majority of public transit passengers ride the bus. The quality of the experience waiting for the bus, along with the frequency of reliability of service, shape perceptions of the entire system. As a result, the bus stop experience, by extension, shapes our transit system's future, just as the appeal and comfort – or lack thereof - of our bus stops influence the transportation choices of potential riders. SMALL STOPS seeks to integrate innovative and compelling bus shelter design into Fort Worth's urban fabric. Importantly, SMALL STOPS seeks proposals that improve the bus stop experience for transit riders. In researching the needs for riders, the LFW team identified a list of significant design considerations for applicants. The list below is not exhaustive but represents the most common issues identified by current riders, drivers, and administrators of The T.
Safety
Shade
Seating
Lighting
Route and schedule information
Waiting rider notification
Aesthetics and appearance
Construction and maintenance costs
(Full design criteria are listed in the application packet at the link below.)
Submission Eligibility
There is no entrance fee, and there are two entrant categories: "Professional" and "Student."
(Professional) A member of the design team (the "Design Architect") must be registered with Texas Board of Architectural Examiners (TBAE).
(Professional) The Design Architect must be responsible for the primary design of the project and be credited on the entry form. Where one architect or firm is not the sole author, all participants substantially contributing to the design must be given credit.
(Professional) The design work must be been performed locally, within an office located in Tarrant County.
(Student) To be eligible for entry in the student category you must be enrolled in a college or university in Tarrant County or one of our FWISD partner schools (Diamond Hill-Jarvis or O.D. Wyatt).
(Both categories) The Design Awards Committee reserves the right to verify all information and to disqualify any entry that does not comply with the eligibility requirements.
(Both categories) Multiple entries are acceptable.
Additional Information on Categories and Locations

In addition to the Professional and Student categories, the competition will consist of two locations: Functional and Artistic. Applicants will fall into only one of the applicant categories but may submit a design for either or both locations. The following outlines both applicant categories and locations.
Professional Category:
Licensed members (or from member firm) of AIA Fort Worth
Student Category:
Students currently enrolled in architecture or architecture/building construction-related programs at TCU, University of Texas at Arlington, Tarleton State University, or Tarrant County College
Students enrolled in Architecture and Construction Programs of Choice at Diamond Hill Jarvis or O.D. Wyatt
Locations:
Functional Stop: Northbound stop for #6 route, located south of southeast corner of Magnolia and 8th Avenue (top photo above).
Artistic Stop: Westbound stop for routes #4 & #6, located west of northwest corner of Pennsylvania and Henderson (bottom photo above).
Maximum Shelter Dimensions:
Each design will be limited to a footprint that is 10-feet wide (parallel to street) and 8-feet deep (from face of curb).
Schedule Milestones
April 17: Applicant deadline for questions: SmallStopsFW@gmail.com
April 26: Two-week deadline reminder sent to all applicants.
May 10 by 5:00 p.m.: DESIGN SUBMISSIONS DUE
May 24: Announcement of winners
Interested?
To request the SMALL STOPS competition brief, click HERE.

Frequently Asked Questions + Q&A
To view answers to submitted questions, click HERE.
Additional Questions?
To submit a question about the SMALL STOPS competition brief, click HERE.