Member Event Opportunities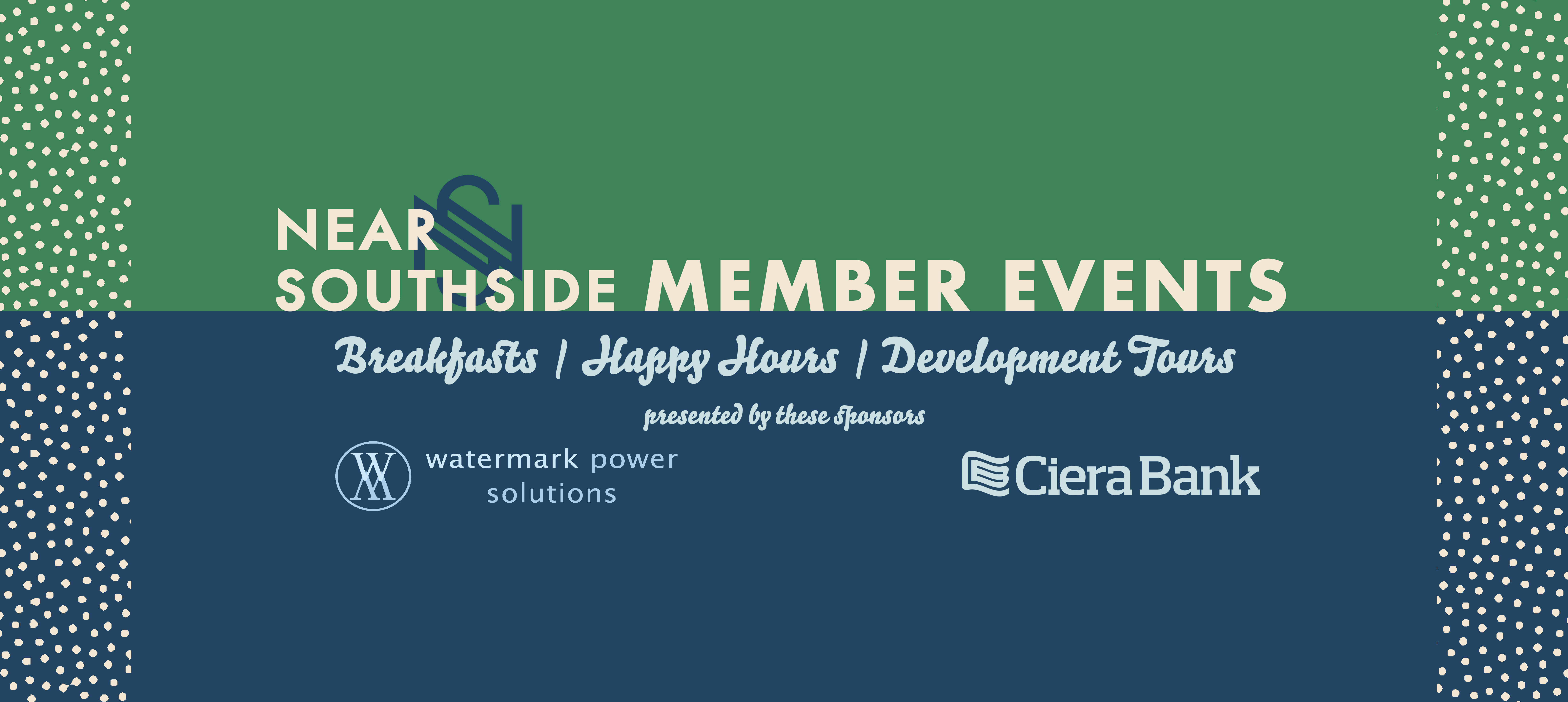 Member Event Opportunities
A NEW FORMAT FOR 2023
We're introducing a new schedule for 2023 member events! This year we will be streamlining the frequency of our Near Southside member events to diversify our programming and make each date worthy of your attendance. We'll host one member event per month and rotate regularly between breakfast, happy hour, and development tour formats. This new schedule will allow our small-but-mighty team the time needed to plan presentations, coordinate host locations, and respond to member needs while offering regular get-togethers for members and their guests. Please save these dates for upcoming events:
NSI MEMBER BREAKFASTS
Near Southside, Inc. Member Breakfasts occur on Wednesday's at 8 a.m. at various member-business locations throughout the Near Southside.
Attendees are given an important opportunity to make introductions around the room
that offer face-time with the entire group before we disburse for more casual networking. Each breakfast includes community updates from NSI President Mike Brennan and NSI Director of Events and Communications Megan Henderson. Hosting is a great way to showcase your business where attendance regularly exceeds 120 guests. Big thanks to our 2023 Breakfast sponsor
Watermark Power Solutions
for underwriting this important programming!
Contact Megan
to learn about hosting opportunities.
2023 BREAKFAST DATES
Wednesday, April 12, 2023
Wednesday, July 12, 2023
Wednesday, August 9, 2023
NSI MEMBER HAPPY HOURS
Near Southside Member Happy Hours are
casual come-and-go networking events
that are equally social and informative. Like the breakfasts, our happy hours are hosted by rotating member-business locations throughout the Near Southside. They provide an opportunity for NSI members to connect on a regular basis while learning about the latest news, partnerships, and policies that shape the district. Enjoy drink specials and a few brief updates and announcements from the Near Southside staff at each event. Big thanks to our 2023 Happy Hour sponsor
Ciera Bank
for underwriting this important programming! Sign up for the NSI newsletter to be notified of the next Near Southside Happy Hour.
2023 HAPPY HOUR DATES
Thursday, February 16, 2023
Thursday, May 18, 2023
Thursday, September 14, 2023


NSI MEMBER DEVELOPMENT TOURS
Near Southside Development
Tours take you behind the scenes
to see the projects highlighted in our community updates at breakfasts and happy hours. Adaptive reuse and new construction projects are featured to offer members the chance to hear directly from the developers, architects, and business owners who are leading these new additions to the Near Southside. Each tour ends with a Near Southside Happy Hour, also generously sponsored by
Ciera Bank
!
Sign up for the NSI newsletter to be notified of the next Near Southside Development Tour.
2023 TOUR + HH DATES
Thursday, March 23, 2023
Thursday, June 22, 2023
Thursday, November 16, 202


NSI SEMINAR SERIES
NSI brings in an interdisciplinary group of experts presenting case studies and lessons learned from a variety of redevelopment projects and entrepreneurial efforts. The seminars provide Near Southside developers, architects, builders, and business owners with the knowledge and tools that should ultimately facilitate new development projects and businesses that otherwise would not arrive in the Near Southside.
Our most recent seminar was held in partnership with the Incremental Development Alliance. The IDA is a national organization that works with small scale developers to give them the tools to invest in their own communities. They hold workshops around the country on small scale real estate development that give attendees the info they need to analyze what makes a good project, determine how a building makes money, and learn how small developers interact with the broader ecosystem of professionals. The sold-out Fort Worth seminar featured a session on market research, creating a sample pro forma, and tips on financing. This workshop was made possible by a grant from LegacyTexas Bank and hosted by The Woman's Club of Fort Worth.
Sign up for the NSI newsletter to be notified of the next Near Southside Seminar Series.
ANNUAL SOUTHSIDE SHINDIG
Near Southside, Inc.'s Annual Southside Shindig is the organization's showcase event and primary fundraiser. The evening showcases the key projects, partners and events that have shaped our district during the previous year. In addition, the event highlights the most anticipated projects for the year ahead and shares exciting information about the landmark developments on the horizon for the Near Southside. Plus, it's a lively evening that celebrates the partnerships and people that make the Near Southside an incredible neighborhood. Near Southside, Inc. looks forward to the return of this important event soon, although we anticipate a different format and hope you'll stay tuned for details.
QUESTIONS OR IDEAS?
For more information regarding membership or member events, please contact Megan Henderson at megan@nearsouthsidefw.org.