Open Streets
The 2023 Fire Station Park and Dickies Skate Plaza Ribbon Cutting celebration will be hosted in lieu of Open Streets this year. We invite all skaters, cyclists, and outdoor-loving friends to join us for this event. We hope to announce a date for the event soon and we ask that you check back regularly to stay apprised.
__________________

OPEN STREETS WILL RETURN IN APRIL 2024. PLEASE CHECK BACK FOR UPDATES.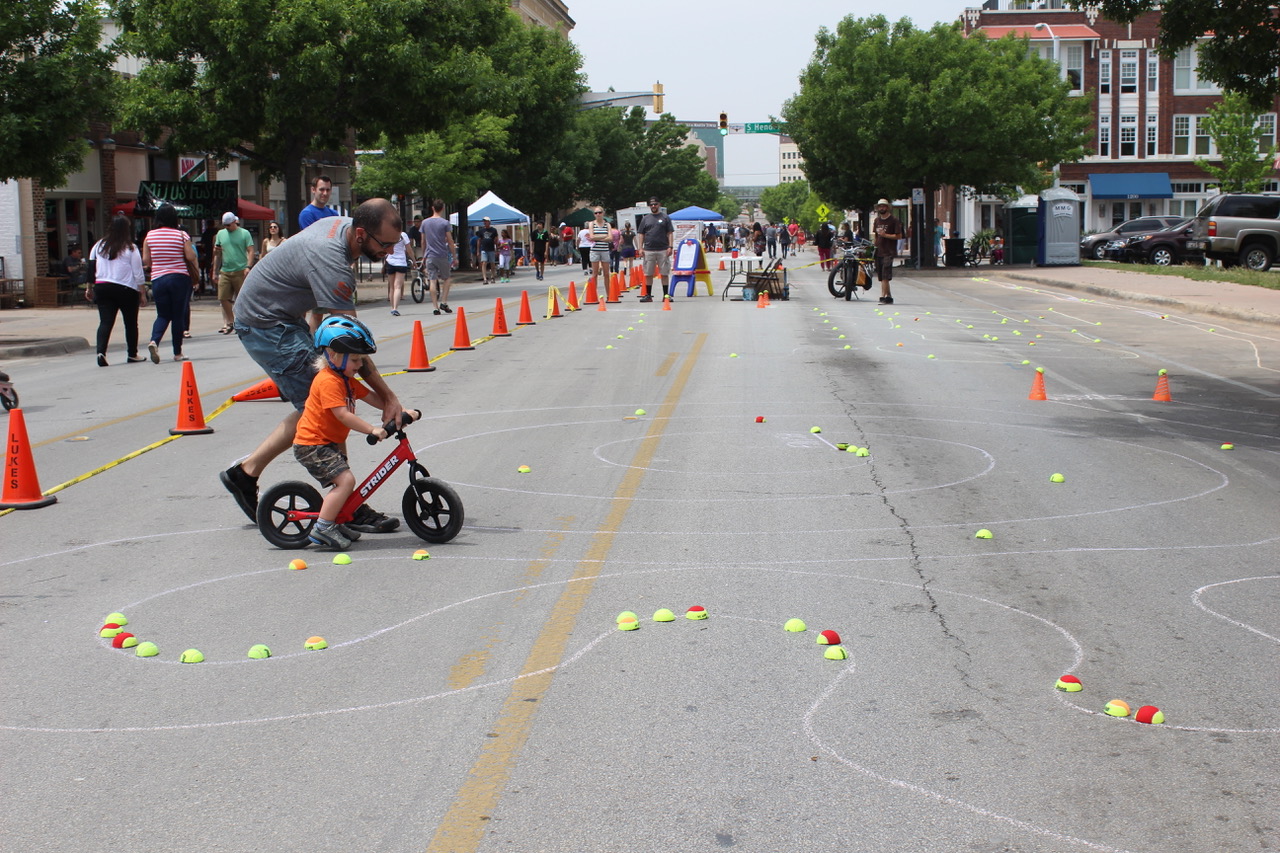 Open Streets is a four-hour Sunday event which closes Magnolia Avenue and other adjacent streets to traffic and opens them up to cyclists, food trucks, dog-walkers, skateboarders, yoga classes, face-painters and much more. The event is an expression of the Near Southside's community spirit in every way: local businesses set up activities along the route; neighborhood residents help spread the word about street closures and detours; and dozens of community partners take ownership of key planning details such as routes and activities, temporary public art projects, pet adoptions, bike safety courses, setting up and breaking down barricades on event day, and much more. Open Streets was presented by Near Southside, Inc. and the City of Fort Worth for the first time in 2011 and drew hundreds of participants. Since then, the event has grown to be one of the Near Southside's most beloved community events with attendance in the thousands and more than 120 community partners providing free activities.
Open Streets is a national movement with more than 90 documented initiatives in North America. Open streets events are increasingly common in cities seeking innovative ways to achieve environmental, social, economic, and public health goals by temporarily closing streets to automobile traffic, so that people may use them for walking, bicycling, dancing, playing, and socializing.
WHAT IS OPEN STREETS?
Non-motorized rolling fun Bicycles, boards, roller skates & scooters
Healthy ways to get people moving Fitness, martial arts, yoga, pilates, obstacle courses, bike safety training, breakdancing, etc.
Environmental advocacy to ensure a healthy sustainable neighborhood
FREE family-friendly fun from more than 100 activity providers
Locally-made products Limited space is reserved for a market featuring handmade items by local artisans. Preference is given to Near Southside residents and business owners.
Open Streets is not solely about promotions, products or sales. It is not a market, music festival, beer bash or street fair.
Open Streets is a community play-day dedicated to neighborly interaction, healthy activity, and complete streets awareness. Learn more about complete streets here.
___________________________
If you would like to stay apprised of any new information, please follow us on Facebook at
Near Southside, Fort Worth
and sign up for our newsletter by clicking the "GET UPDATES" button in the top right menu of this page.
___________________________
DATE April 2024, specific date TBD
REGISTRATION is not open at this time. Please check back for updates.
TIME Noon to 4 PM
LOCATION Magnolia Avenue from Hemphill to 8th Avenue
COST Free to the public
PRODUCER Open Streets is presented by Near Southside, Inc. and Near Southside Arts
TAX INFORMATION
Near Southside Arts, managed by Near Southside, Inc., is a 501(c)(3) non-profit organization. Sponsorship contributions made to Near Southside Arts. are deductible as charitable donations. W-9 forms will be provided at your request.
Near Southside, Inc. is a private, member-funded, non-profit 501(c)(4) development company dedicated to the revitalization of Fort Worth's Near Southside. NSI began as a small coalition of Near Southside businesses and community leaders and has grown dramatically over the last decade. We invite you to join us as we promote the redevelopment of Fort Worth's Near Southside as a vibrant, urban, mixed-use neighborhood.
SPONSORSHIP OPPORTUNITY
NSI is seeking sponsorship for the 2024 Open Streets. Open Streets event offers the opportunity for community-minded businesses and institutions to gain publicity through their support of an exciting neighborhood street festival that has garnered widespread attention by both the media and the public. The event that has become a treasured component of life in the Near Southside. Please contact megan@nearsouthsidefw.org to discuss sponsor opportunities.
FIRST RIGHT OF REFUSAL
All previous-years sponsors receive a first right of refusal.
CONTACT
Megan Henderson Director of Events & Communications
Near Southside, Inc. 1606 Mistletoe Blvd. Fort Worth, Texas 76104
megan@nearsouthsidefw.org | cell 817.966.1880