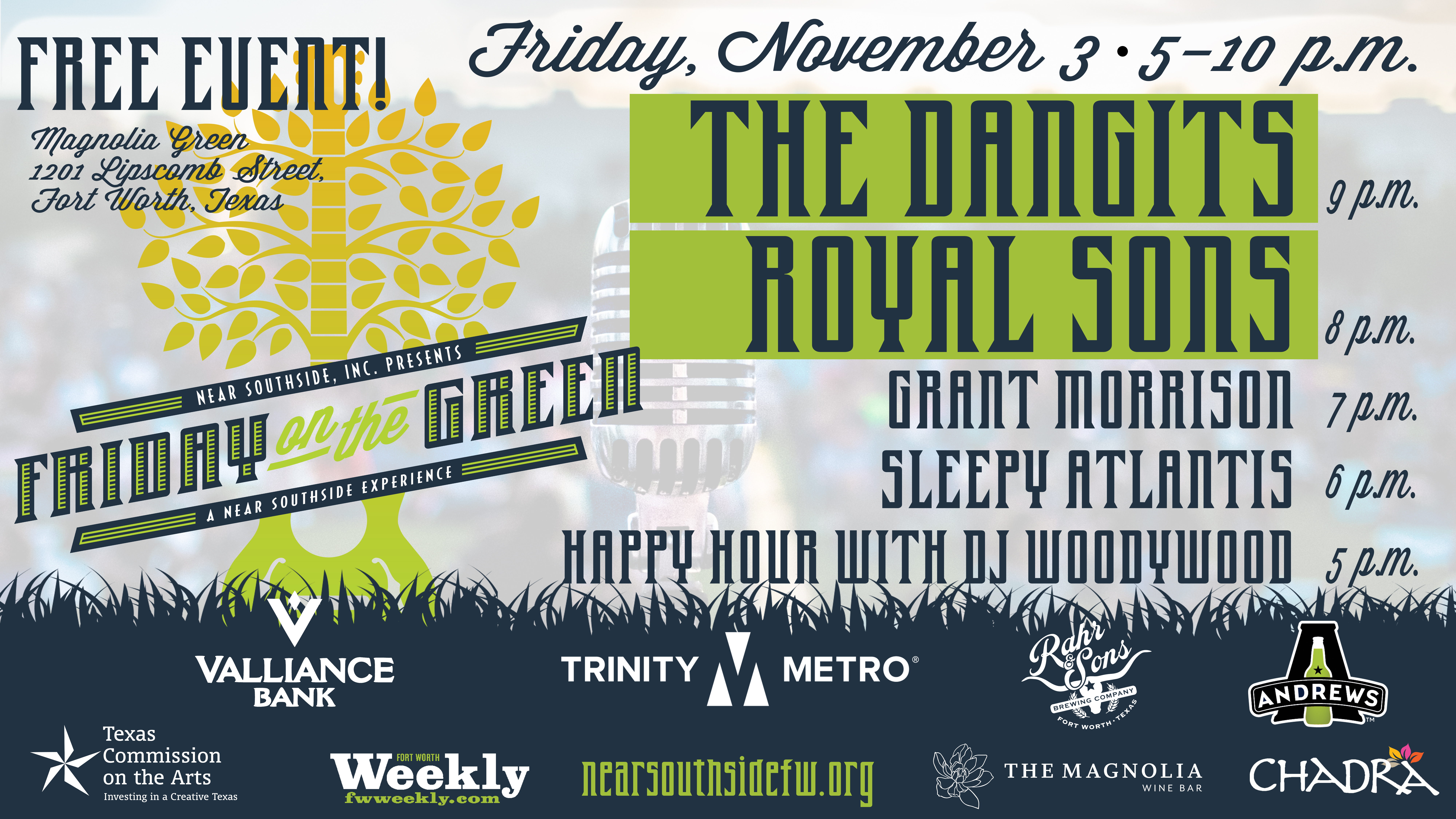 Family-Friendly Monthly Concert Series
2023 DATES
FRIDAY, APRIL 14
FRIDAY, MAY 12
FRIDAY, JUNE 9

FRIDAY, SEPTEMBER 8 Rescheduled due to extreme heat
FRIDAY, OCTOBER 13
FRIDAY, NOVEMBER 3
9 PM The Dangits
8 PM Royal Sons
7 PM Grant Morrison
6 PM Sleepy Atlantis
5 PM DJ Jeff Woody Wood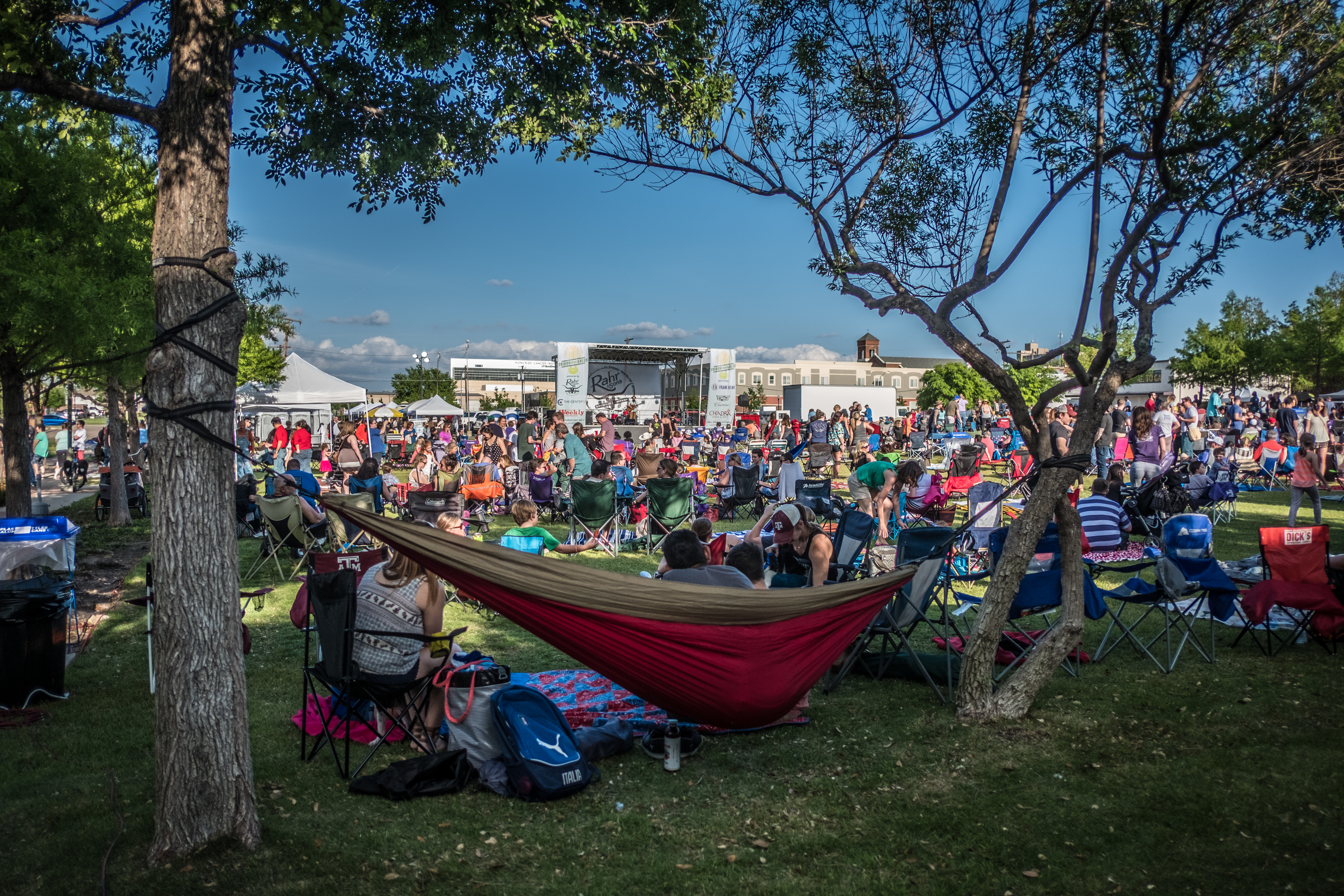 THANK YOU THESE PARNTERS FOR MAKING FRIDAY ON THE GREEN POSSIBLE
@ridetrinitymetro @txcommarts @valliancebank @andrews_distributing @rahrbrewing @fortworthweekly @chadramezza @themagnoliafw @robertstonmuellerharper @nicoledawnsonstatefarm @insideimagedesigns @wanderingroots_market @lovelocalcoffeeshop @witchybazaar


FOOD & DRINKS FROM
BEER @rahrbrewing
WINE @themagnoliafw
@cuisineforhealing @chadramezza @crazyburgerfw @funky.calavera @ifratellipizza @its_food_lol @leoschurrobar @melticecreams @pepestaqueria.fortworth @plakasgreekkitchen @santofrijol @Spice, @salsalimon @SweetlandFW @twistedsisterscoffee @thepudgypenguin @wildcraft.coffee @beren @pastadilusso @mamalamasweets


FRIDAY ON THE GREEN is community concert series produced by Near Southside, Inc. and Near Southside Arts. The event is FREE TO THE PUBLIC thanks to generous support from these community partners Trinity Metro, Valliance Bank, Rahr & Sons Brewing Company, Andrews Distributing Company, Chadra Mezza, The Magnolia Wine Bar and our longtime media partners at the Fort Worth Weekly.
Friday on the Green is held at Magnolia Green, located on Lipscomb between Magnolia Ave. and Rosedale St., and regularly attracts thousands of neighborhood families and visitors. The event features the region's best live music, tasty food and drinks from Near Southside eateries, and the fun and relaxed atmosphere of a big neighborhood picnic.
Groups of families and friends show up with blankets, chairs and pets to enjoy a lineup of four great local bands, children's activities and an artisan market. Word about Friday on the Green has spread throughout the region, taking the event to a new level of popularity, but with the feel of a neighborhood party still intact.
NO OUTSIDE FOOD AND DRINK PLEASE
Your support of our food and drinks vendors keeps Friday on the Green free to attend.
THIS EVENT IS FREE TO ATTEND THANKS TO:
Presenting Sponsors
Trinity Metro
Valliance Bank
Rahr & Sons Brewing Co.
Andrews Distributing Company
FW Weekly - Media Sponsor
Community Partners
Robertson Mueller Harper Funeral Directors and Nicole Dawnson State Farm
EVENT TIMES
5:00 PM to 10:00PM
LOCATION
Magnolia Green 1201 Lipscomb Street, Fort Worth, Texas 76104
PARKING
Available at the FREE public parking garage at 1201 Alston Avenue.
GETTING TO AND FROM THE EVENT
Make your move to the Near Southside on Trinity Metro. Plan your adventure at ridetrinitymetro.org
FRIDAY ON THE GREEN MARKETS
April 14, 2023 hosted by Wandering Roots
May 12, 2023 hosted by Wandering Roots
June 9, 2023 hosted by Love Local, market is full for vendors at this time.
October 13, 2023 hosted by Witchy Bazaar, applications closed. Market full.October 13, 2023 hosted by Love Local Coffee & Art Shop, applications closed. Market full.
To express interest contact:
Wandering Roots, Shea Salazar <
wanderingrootsmarkets@gmail.com
>
Love Local, Sara Tucker <
lovelocalcoffeeshop@gmail.com
>
Witchy Bazaar, Brandi Beckwith <
witchybazaar@gmail.com
>
PRODUCER
Friday on the Green is presented by Near Southside, Inc. and Near Southside Arts.
QUESTIONS
Please contact Megan Henderson, NSI Director of Events and Communications, at
817-923-1343 or megan@nearsouthsidefw.org with questions.