Family-Friendly Monthly Concert Series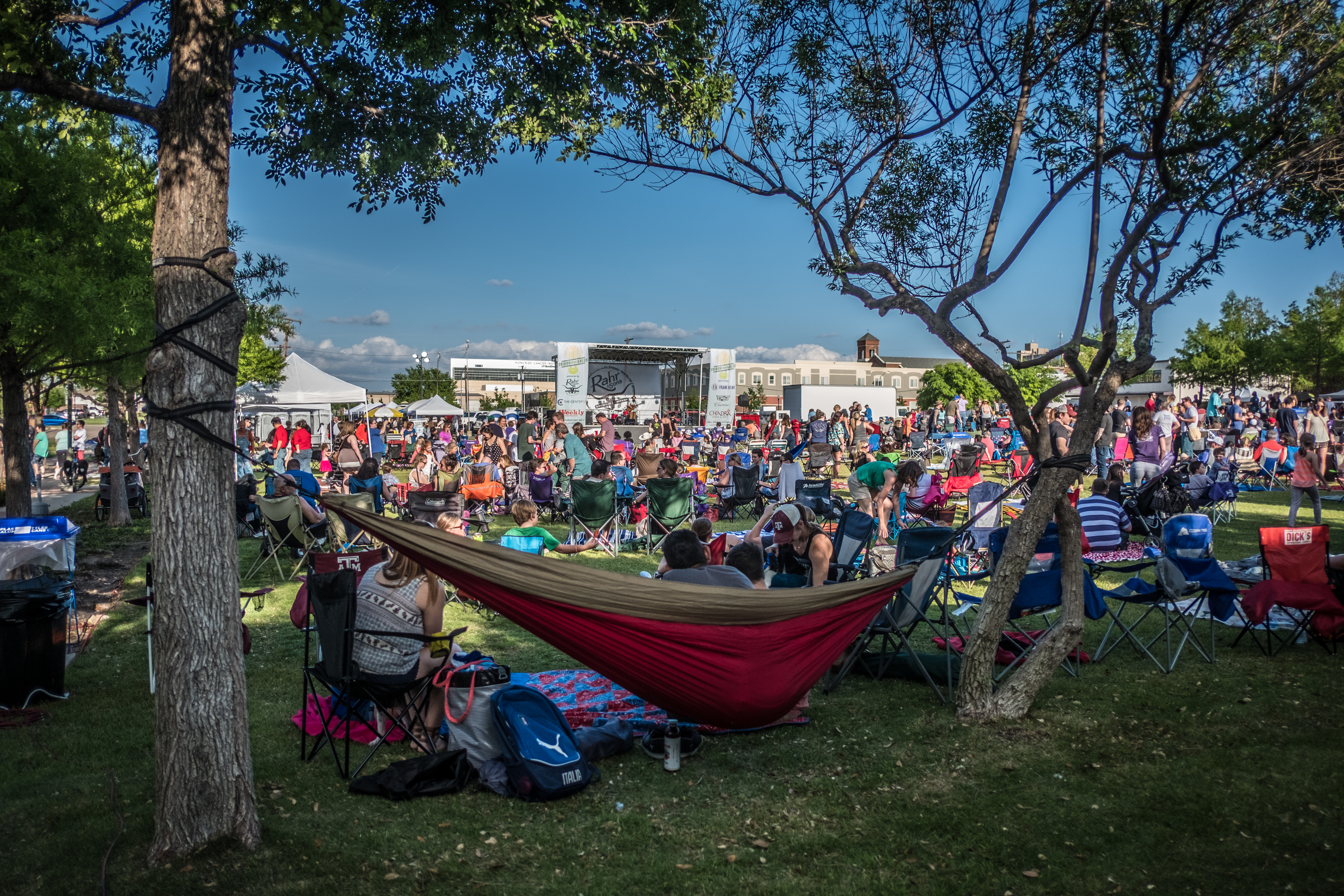 CELEBRATING ITS 12TH SEASON, FRIDAY ON THE GREEN is the once-monthly concert series presented the second Friday of April, May, June, September and October by Near Southside, Inc. and Historic Southside, Inc. The event is held at Magnolia Green, located on Lipscomb between Magnolia and Rosedale, and regularly attracts thousands of neighborhood families and visitors. Friday on the Green features the region's best live music, tasty food and drinks from Near Southside eateries, and the fun and relaxed atmosphere of a big neighborhood picnic. Groups of families and friends show up with blankets, chairs and pets to enjoy a lineup of four great local bands, children's activities and an artisan market. Like ArtsGoggle, word about Friday on the Green has spread throughout the region, taking the event to a new level of popularity, but with the feel of a neighborhood party still intact.
___________________________
***2020 Near Southside Community Events Update***
Our team at NSI is carefully watching and weighing the concerns over outdoor events and the COVID-19 outbreak. Public event producers in Fort Worth owe all our partners and the public careful consideration of how the virus might affect public health as it relates to Open Streets and Friday on the Green, as well as other outdoor events.
Our spring event season of Friday on the Green and Open Streets is currently ON PAUSE until we get further information and are able to decide what can be produced with the safety of our community as our first priority. We hope to have an update soon.
At this time we have canceled the April 10 Friday on the Green event but remain cautiously optimisitic that we will be able to move forward with our May, June, September and October Friday on the Green events. However, all event productions are subject to public safety best practices and planning for our 2020 season remains on hold until we receive updates from public health officies that ensure large outdoor gatherings are safe and permitted. Until that time, we appreciate your patience and partnership.
The other community events hosted by private businesses that are listed on this event calendar are still being held, to the best of our knowleldge. We strongly ecourage you to reach out to each business or event host, as listed within the event to ask them about their events. Near Southside, Inc. only produces Friday on the Green, Open Streets, PARK(ing) Day and ArtsGoggle. All other events promoted here are produced by our partners in the community and they are the primary contact for that event.
If you would like to stay apprised of any new information, please follow us on Facebook at Near Southside, Fort Worth and sign up for our newsletter by clicking the "GET UPDATES" button in the top right menu of this page.
___________________________
REGISTRATION is not open at this time due to public health planning. Please check back later for updates. If the event is able to move forward, applications will open on this website at our events calendar.
FIVE EVENT SEASON - 2020 EVENT DATES
April 10 | May 8 | June 12 | September 11 | October 9
Rain date if needed November 6
TIMES 6:00 PM to 10:00PM
LOCATION Magnolia Green 1201 Lipscomb Street, Fort Worth, Texas 76104
COST Free to the public
SPONSORSHIP OPPORTUNITY
NSI is seeking sponsorship for the 2020 Friday on the Green season. The event provides a unique opportunity for company to promote its brand to thousands of attendees while also supporting a tremendously popular community event that has become a treasured component of life in the Near Southside. Please inquire for terms and benefits of sponsorship.
Presenting Sponsor (2 of 5 available) - $12,500
Market Sponsor (1 available) - $2,500
Community Partner (2 of 5 available) - $1,750
Beer Concessionaire (1 available) - $7,500
Wine Concessionaire (1 available) - $2,500
Food Vendor (8 available) - $1,250
Sweets or Non-Alcoholic Drinks Vendor (2 of 7 available) - $625
ATTENDANCE
Each event typically brings an estimated attendance of 1,500-2,000 attendees. The Friday on the Green season opening and closing shows, April and October, typically have a heightened draw of around 2,000-3,000 attendees. Total attendance for the season is conservatively estimated at approximately 10,000.
PRODUCER
Friday on the Green is presented by Near Southside, Inc. and Historic Southside, Inc.
TAX INFORMATION
Historic Southside, Inc., managed by Near Southside, Inc., is a 501(c)(3) non-profit organization. Sponsorship contributions made to Historic Southside, Inc. are deductible as charitable donations. W-9 forms will be provided at your request.
Near Southside, Inc. is a private, member-funded, non-profit 501(c)(4) development company dedicated to the revitalization of Fort Worth's Near Southside. NSI began as a small coalition of Near Southside businesses and community leaders and has grown dramatically over the last decade. We invite you to join us as we promote the redevelopment of Fort Worth's Near Southside as a vibrant, urban, mixed-use neighborhood.
QUESTIONS
Please contact Megan Henderson, NSI Director of Events and Communications, at
817-923-1343 or megan@nearsouthsidefw.org.